DIY Foam Forts
Have you ever wanted to build a softer indoor castle for your kids? We can show you how to build foam forts that will encourage endless play and spark the imagination!
DIY Foam Forts for Kids
Did you ever get the chance to build a fort as a kid? Grabbing random pillows or couch cushions, dining room chairs, blankets galore, and letting your imagination turn comforters over cushions into a sprawling castle was a part of play for many of us growing up. But that doesn't mean that you—or your children—can't recreate these epic moments with something just as grand and perhaps even better.

There's a way to build a fort that could not only grow with your child but perhaps save you as a parent from having to put back all the blankets and couch cushions! What is it? A foam fort!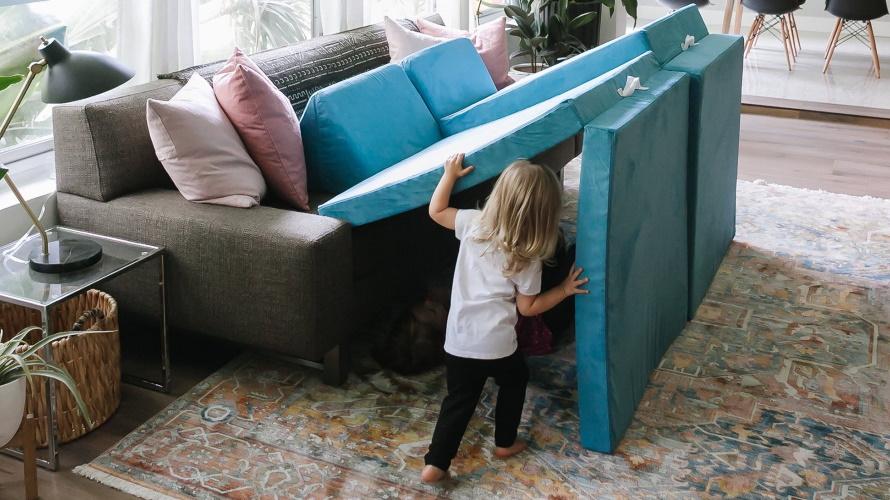 But how would you build a foam fort? We're more than happy to share with you all the fun, imaginative ways you could make the foam forts of your child's and your childhood dreams!
DIY Multi-Purpose Foam Fort, Tumbling mat, or Lounge Spot

Suppose you're looking for the ultimate in imaginative foam forts that are highly versatile for many purposes. In that case, you can create a series of foam cushions or cushion shapes that can be stacked, piled, or put together in countless ways. The below DIY is excellent for a multi-purpose creation that not only creates excellent forts but can be stacked to create a comfy lounging and reading spot or laid out for practicing tumbles and so much more.
There are several options available to you to create this. Most commonly, and probably the easiest, is to rely on a reputable foam company that can precut the pieces for you or has the pieces available to purchase. You can also opt to have them covered with the fabric already, depending on the business and where you buy them. Additionally, you can also sew your own fabric covers if you wish.

We're going to cover how to turn the precut pieces into a versatile fort and play area.
The Foam

There are two types of foam you can choose from for this DIY project. You can choose to order a king-sized memory foam mattress and cut it yourself at home. Or, if you would prefer a much firmer foam, you could decide to use Lux high-quality foam. There are a few things to note with each:
King size memory foam. With king-sized memory foam, you'll want it at least 4 inches thick at the minimum. Some of the pieces in this DIY will range in thickness. The advantage of using a king-size memory foam mattress is that they usually come with two types of foam together. You can custom cut the memory foam at home for an array of thicknesses. The other important note to remember about purchasing the king-size mattress is that if you are cutting this at home, your cuts will not be as precise or perfect as they would ordering the pieces precut.
If you choose the Lux-high quality foam, here are the sizes of sheets you'll need to order:
4 – 5 inches in thickness.
4 33"x33" squares.
12 14" x 21.5" rectangles with the 21.5" sides cut at 30-degree angles (these will form your triangle cushions)
8LBs shredded conventional foam (for stuffing the foam triangles you will be making.)
Remember that your cuts will not be as perfect as getting them precut if you decide to cut them by hand.
For the best home-cuts, we recommend:
Measuring tape
Marker
Level or straight edge and protractor
Electric carving knife with at least 8-9" blade.
Pre-Cut High-Density Foam Instructions

We're going to take your 12 precut 14" x 21.5" precut high-density foam with 30-degree angles cut on the longer sides to create our triangles. For this step, we recommend using either 3M super 77 Spray adhesive.
Take 3 of your 14" x 21.5" rectangles with 30-degree angles cut along the longest edges, spray your adhesive along the angled ends and begin to stick the three pieces together until it creates a triangle. Let dry fully.

Once dry, you can place these triangles within a cover, leaving one end open to stuff the hollow middle of the triangle. It doesn't have to be perfect. Make sure it's filled to help keep the triangle shape.

Once the triangle foam pillows are finished, you're done! The last step to do is to hand-sew a cover for each, or you can research covers for similar products such as the kid's couches, foldable mats, and so on.
Quick and Easy
When it comes to a quick and easy way to have your little ones build a fort? The easiest way to do so is to order custom sizes Outdoor foam seats and cushions. Why outdoor seats and cushions? Dryfast foam is well suited to the enthusiastic use kids can put their favorite toys through, such as moisture. Large, open cells provide a high degree of airflow, allowing the foam to dry exceptionally fast after a wash or dabbing up a spill. Additionally and most importantly, Dryfast foam is antimicrobial, suppressing the growth of microorganisms that can accumulate in damp conditions.

You can also get Dryfast foam custom cut, so creating a myriad of shapes for your kids' potential forts is nearly limitless. Our largest blocks of Dryfoam in a square come as large as 50"x90. Our circle Dryfast foam cushion can be ordered up to 76" x 82". You can also order other shapes. We have a triangular boat mattress, T-Cushion, Trapezoid, and of course, you can go further by requesting a custom shape and cut that is unique to what you need.

At The Foam Factory, we are passionate about everything we do, from our commitment to offering the highest-quality foam products and cuts to showcasing all the fantastic ways foam products can brighten and ease our everyday lives. Foam can be so much more, and we're always looking out for ways to make your life easier and more creative with the help of foam. Whether you're looking to build the most imaginative, fantastic toys, games, and structures to engage the creativity of your little ones to your home décor and shipping needs, we'll have the foam solution and ideas you need.
Posted in DIY, DIY Foam Projects, Dry Fast Foam, Memory Foam