DIY Foam Forts
Have you ever wanted to build a soft, indoor castle for your kids? We can show you how to build foam forts that will spark their imagination and encourage endless play!
DIY Foam Forts for Kids
Do you remember building forts as a kid? Pillows, cushions, chairs, and blankets let your imagination run amok! This made for the most fun playtime memories for many of us! As a matter of fact, you—or your children—can recreate these epic moments with something just as grand!
There's a way to build a fort that your child can enjoy for years, and it will save you, from having to put away all the blankets and couch cushions. What is it? A foam fort!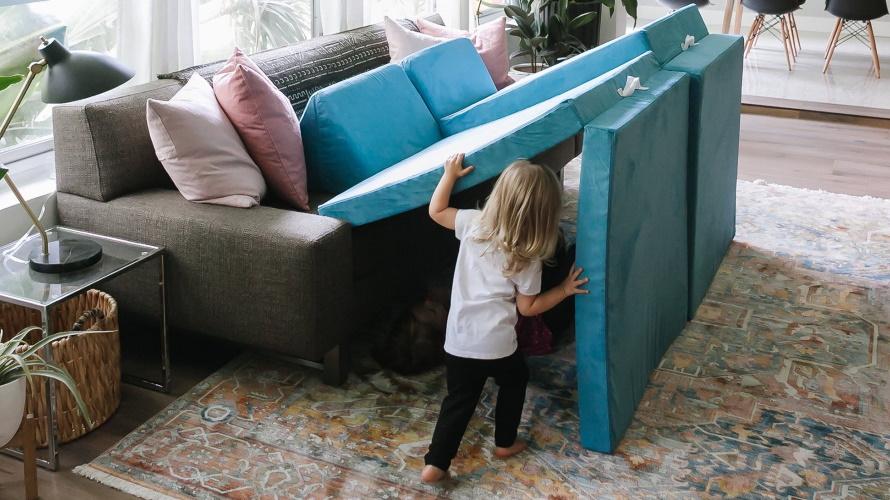 Where do you start building a foam fort? We are excited to share all the fun and imaginative ways to make the foam fort of your child's dreams (and maybe yours, too)!
DIY Multi-Purpose Foam Fort, Tumbling Mat, or Lounge Spot
Suppose you're looking to DIY a foam fort that is also extremely versatile. The below DIY project is perfect for building a multi-purpose fort that can be used as a comfortable reading spot or as an exercise/tumbling mat, as well!
For materials, it is best to rely on a reputable foam company that provides precut pieces for you to purchase. You can sometimes opt to have them covered with the fabric, depending on the business and where you buy them. Alternatively, you can sew your own fabric covers if you wish.
There are a few types of foam you can choose for this DIY project. For foam forts, it is typically recommended to go with a conventional foam. We offer these in different levels of firmness: Super Soft (soft), HD36 (medium), and Lux (firm). What you choose will depend on your personal preference.
You can certainly cut these pieces yourself, but if you would like more accuracy, we can cut the foam for you here at The Foam Factory.
The pieces should typically be sized as follows:
Foam

All pieces should be 4″-5″ Thick
4 pieces, 33″ x 33″ Square
12 pieces, 14″ x 21.5″ rectangles with the 21.5″ sides cut at 30-degree angles (these will form triangle cushions)

8lbs of shredded conventional foam (to stuff the foam triangles you will be making.)
For the best home-cuts, we recommend using

Measuring tape
Marker
Level or straight edge and protractor
Electric carving knife
Foam Cutting Instructions
First, you will need to cut your 12 rectangular 14" x 21.5" foam pieces with 30-degree angles cut on the long sides to create your triangles. One rectangle should create two triangles.
Take 3 of your 14" x 21.5" rectangles with 30-degree angles cut along the longest edges, spray your adhesive along the angled ends, and begin to stick the three pieces together until it creates a triangle. Let these dry fully.
Once dry, you can place these triangles in a cover. Leave one end open to stuff the hollow middle of the triangle. It doesn't have to be perfect. Make sure it's filled to help keep the triangle shape.
When you have finished the triangle foam pillows, you're done! The last step is to hand-sew a cover for each, or you can track down covers for similar products.
Quick and Easy
Are you looking for a quick and easy way for your little ones to build a fort? Outdoor foam cushions are the quickest and cleanest approach you can take! Why outdoor seats and cushions? Dryfast foam is well suited to handle the abuse that kids can put them through. Large, open cells provide a high degree of airflow. These cells allow the foam to dry exceptionally fast after being washed or encountering a spill. Most importantly, Dryfast foam is antimicrobial. It suppresses the growth of microorganisms that tend to accumulate in damp conditions.
You can also get Dryfast foam custom cut, so creating a myriad of shapes for your kids' potential forts is nearly limitless. Our largest sheets of Dryfast foam measure 50" x 90", but you can get this custom cut into a variety of shapes for your application!
At The Foam Factory, we are passionate about everything we do. We are committed to offering the highest-quality foam products, and we are always excited to showcase the fantastic ways foam products can be used in your everyday lives. If you're looking to build imaginative toys, games, and structures, then we have the foam solutions you need.
Posted in DIY