Get a Quote
For a price quote on replacement foam for couch cushions, seat cushions, or boat mattress replacement, click on the shape that best fits your application. The following page will allow you to enter the dimensions of your seat or cushion!
Custom Shapes
Don't see the shape you need for your chair cushion or boat mattress? We can custom-make just about any shape for your cushion filling, whether you need living room seats, boat cushions, or foam for any other application. Custom made covers are available, as well! Contact Us for details, questions on a custom order, or anything else you may be wondering about.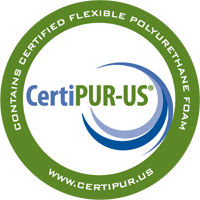 Foam meets CertiPUR-US® certification.
Return Policy
Custom cushions cannot be accepted for return unless there is a product defect or a manufacturing error. Please see our Return Policy for more information. If you have questions concerning our return policy, please Contact Us before placing your order.
Manufacturing Tolerances
Custom-cut seats and cushions have dimensional tolerances according to the "Custom-Cut Cushions" section of our Dimensional Tolerances table. If your project requires a tighter tolerance, Contact Us for more information about machine cut custom items.
Largest Solid Sheet
The largest solid sheet available for couch foam, boat foam, mattresses, or any other custom shape is 76" x 82". Please be aware that when ordering pieces larger than this, the foam will be glued to another piece to meet the requested dimensions. There will be no additional gluing charges in this situation.
Largest Solid Thickness
The largest solid thickness available is 6". Please be aware that when ordering pieces at a greater thickness than that, it will be glued together with another piece. Up to 8" thickness, there are no additional gluing charges. For thicknesses greater than 8", an additional gluing charge will apply.