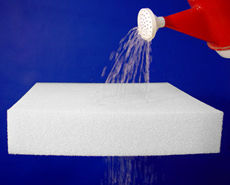 Dryfast Foam for Outdoor Use
Dryfast foam has large cells that allow it to dry quickly after getting wet or even completely saturated (see picture at right). Long-lasting Dryfast foam is excellent for use as seat backs for patio furniture, yachts cushions, or any of your other outdoor foam replacement needs. It is also perfect for use under phifertix material. Our Dryfast foam formulation is anti-microbial and will inhibit the growth of micro-organisms like bacteria. Dryfast outdoor foam can be cut to the size that you need with a sharp carving knife or electric knife. We can also cut the foam for you!
Get a Quote
For a price quote on replacement foam or outdoor furniture cushions, click one of the shapes that best fits your application. The next page will allow you to enter in your dimensions of your seat or cushion.
Custom Shapes
Don't see your shape? We can custom make a patio cushion just about any shape. Contact Us for details.
Return Policy
Custom cushions cannot be accepted for return unless there is a product defect or a manufacturing error. Please see our Return Policy for more information. If you have questions concerning our return policy, please Contact Us before placing your order.
NOTE: The largest solid size available is 90" x 50". When any one piece of foam is ordered larger than that, it will be glued together with another piece. There are no additional gluing charges for oversized cushions.