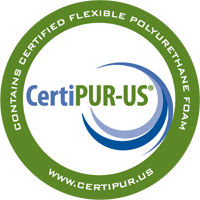 At The Foam Factory, we know that health and safety are among the top priorities for customers deciding to bring new products into their homes. In order to provide peace of mind to our customers while also offering the highest-quality products, The Foam Factory has earned CertiPUR-US® certification for most of our open-cell comfort foams. The requirements for earning CertiPUR-US® certification assures customers that our environmentally-innovative polyurethane foam is tested for content, durability, and performance.
The CertiPUR-US® program is a voluntary analysis and testing program that aims to help consumers make more informed purchasing decisions regarding flexible polyurethane foam. Products carrying the CertiPUR-US® seal are analytically tested in independent laboratories and are certified to meet specific requirements for indoor emissions, physical performance, and environmental responsibility.
Due to the disreputable practices of a few companies in our industry, many consumers believe that foam products are filled with harmful materials and chemicals. Fortunately, for the vast majority of foam materials this is untrue. When manufactured to correct standards, foam products are a safe and healthy option for bringing unparalleled comfort, relaxation, and luxury in and around the home.
CertiPUR-US® certified materials must successfully undergo exhaustive testing and meet certain standards and requirements. In order to earn CertiPUR-US® certification, materials must be:
Manufactured without formaldehyde
Manufactured without lead, mercury, and other heavy metals
Manufactured without ozone depleters
Manufactured without PBDE flame retardants
Manufactured without phthalate softening agents
Have low VOC (Volatile Organic Compound) emissions for indoor air quality (less than 0.5 parts per million)
The knowledge that the materials you intend to bring into your home are certified to meet certain additive and emissions requirements can help you make informed decisions prior to purchase, and peace of mind after you have brought the product home.
Foam Factory CertiPUR-US® certified materials include:
HD36-Regular Foam
HD36-High Quality Foam
Lux-Regular Foam
Lux-High Quality Foam
Super Lux Foam
Super Max Foam
3LB ViscoSAVER Memory Foam
4LB ViscoPLUSH Memory Foam
5LB ViscoMAX Memory Foam
Medical Foam
Poly Foam
Super Soft Foam
For more information on CertiPUR-US® certification, visit www.certipur.us.
CertiPUR-US® is a registered certification mark of Alliance for Flexible Polyurethane Foam, Inc., a not-for-profit organization.