Taking on The Competition: The Foam Factory Mattresses vs. Lull Mattresses
Choosing the right mattress can be a daunting task; everything from the feel to the construction is an important factor that can impact the quality of your sleep for years to come. Even restricting the discussion to just foam mattresses leaves the shopper with numerous retailers and manufacturers to choose from, with each claiming that their mattresses are the ones for you.
Lull is one of many brands on the market that claims that their mattress is the best. Let's take a look and see how Lull and The Foam Factory compare to one another!
How Lull and The Foam Factory Stack Up
Because Lull is just one mattress, we're going to select our 8″ thick queen size 5LB ViscoMAX Memory Foam Mattress from our catalog for the head-to-head against a queen size Lull.
Meet the Mattresses
There are many similarities between the Lull mattress and The Foam Factory's ViscoMAX mattress. Both mattresses take advantage of mattress layering to provide contoured comfort and to prevent sinking through the mattress. Both make use of viscoelastic memory foam for their comfort layers and conventional polyurethane foam for the support layers. The materials in both mattresses are hypoallergenic and CertiPUR-US certified.
The Lull mattress is made up of a 1-1/2″ gel memory foam comfort layer, a 1-1/2″ latex blend transition layer, and a 7″ conventional foam support layer. Gel memory foam is memory foam that has been infused with gel microbeads, and is designed to help dissipate body heat so that the sleeper feels cooler at night. The intent behind a transition layer is to try and make the transition from comfort layer to support layer feel more gradual, hence the name.
The Foam Factory's 8″ 5LB ViscoMAX mattress is made up of a 3″ 5LB traditional memory foam comfort layer and a 5″ conventional foam support layer. Instead of a transition layer, the ViscoMAX takes advantage of a thicker comfort layer to ease the sleeper onto the support layer. Customers can choose between medium and firm support foam, and can upgrade the thickness of the memory foam layer for even more body contouring comfort.
Which Mattress is the Better Buy?
At a glance, the Lull mattress does have more advertised features than The Foam Factory's ViscoMAX. However, many of these features still come down to personal preference. A gel-infused top layer may be uncomfortable to someone who tends to sleep cooler, or unnecessary in a well circulated room that is kept at a lower temperature. A transition layer may be good enough to the job done, or it may not. Many users, especially larger sleepers, will still feel the transition from comfort layer to support layer, and can feel like they are "bottoming out" on the thinner comfort layer.
One factor that absolutely does not come down to personal preference is the price. At the time of this writing, a queen size Lull mattress would sell for $800 (including promotional discount). The Foam Factory's 8″ queen 5LB ViscoMAX Memory Foam Mattress sells for $353.99 – less than half the cost! To put that into perspective, you could purchase an identical ViscoMAX mattress for your spare room and still have almost $100 left over to put towards pillows, sheets, or whatever else you desire!
Don't mistake the lower price tag as a sign of cheapness, though. Our 5LB ViscoMAX mattress comes with a 15-Year Warranty, five years longer than the 10-Year Warranty for the Lull mattress.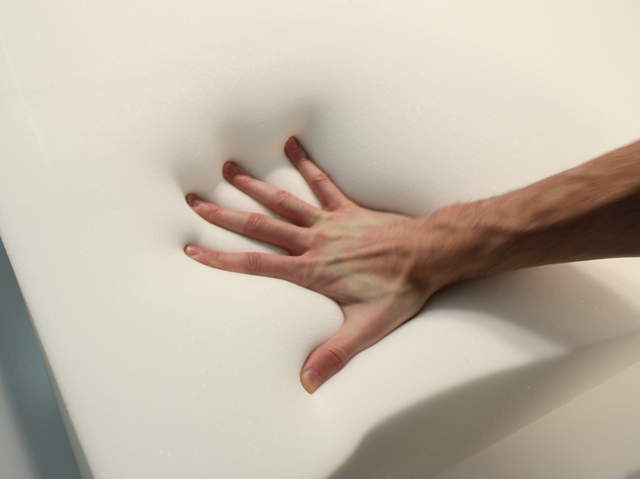 Build Your Own Lull-esque Mattress on a Budget with The Foam Factory
One of the great things about shopping for mattresses at The Foam Factory is being able to truly customize your sleep experience. Rather than being restricted to just a standard mattress, customers can create whatever configuration they want from our selection of mattresses, toppers, and covers!
We have featured some layered custom build examples before, but what if you really had your heart set on a mattress that feels like a Lull mattress? By combining memory foam, latex, and conventional foam layers, The Foam Factory can get you that feeling at a fraction of the price!
Here is what you would need to construct a copycat queen size Lull mattress:
The final price for this build comes out to $418.95, a savings of $381.05 (47.6%) over the Lull branded mattress!
Overall, the result is an approximately 76LB mattress (compared to Lull's 77LBs) with similar comfort, transition, and support layers to the Lull. While this build doesn't match the Lull mattress exactly (notably, traditional memory foam vs. gel memory foam), it will have many of the same body contouring, springy, and supportive qualities while being much gentler to your wallet! Best of all, if you find some items in this build somewhere else at a lower price, we will meet that price and beat it by 10%!
Mattresses are not One Size Fits All
When it comes down to it, everyone has different sleeping preferences. All-encompassing mattresses that try to have all of the answers may be great for some, but mediocre or even inadequate for others. Even the temperature sensitive characteristics of memory foam aren't going to be perfect for everybody.
For the best night's sleep, you need options to choose from, and the freedom to build a mattress personalized to your exact needs. With The Foam Factory's impressive selection and knowledgeable staff, customizing a mattress has never been easier!
Posted in Mattresses, Memory Foam