Spring Foam Crafts
Summary: Tired of the snow? Can't wait for warmer temperatures? We have the best spring foam crafts for you to decorate your home this season and brighten the doldrums of winter.
Foam Crafts for Spring
You might be looking out your window right now, watching the snow gently pile up and feeling like there's no end to the chill. Finding yourself or your kids thinking about when the snow finally melts and tender shoots of grass and tiny buds appear on the trees might fill you with the longing for spring. If only there were some way to welcome the beginning of better weather and more greenery, you might think.
We're happy to tell you there is a way to bring the brightness of warmer days to you, your home, and your little ones with spring foam crafts. Below, we've collected some of our most spring-inspired foam crafts to help bring the warmth inside while waiting for it to arrive outside.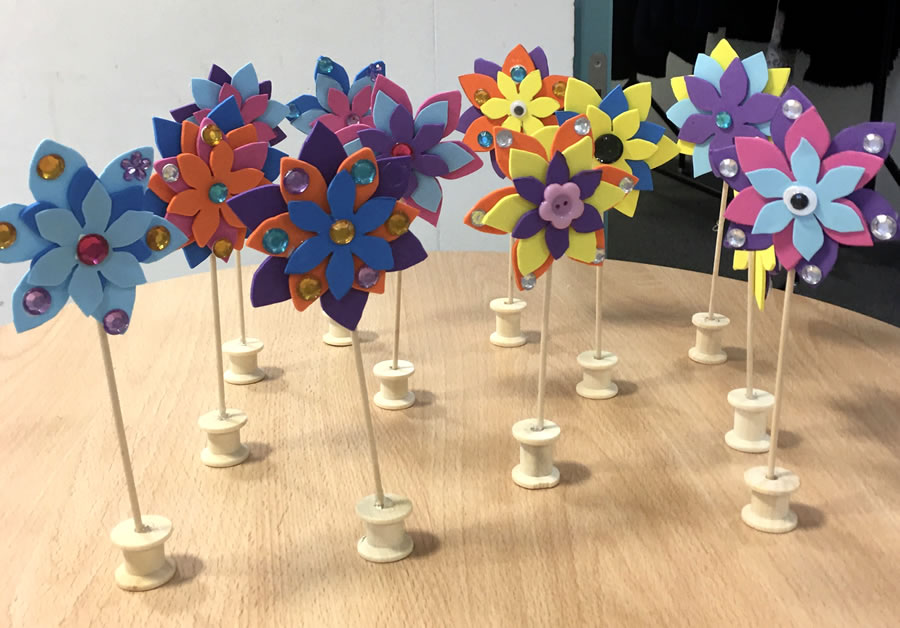 Foam Pinwheels
Whether you're looking for something colorful to decorate your indoor and outdoor plants, or a simple activity for the kids, then crafting a fun pinwheel from closed cell foam might be the perfect spring solution. These surprisingly sturdy pinwheels feature no pins or thumbtacks so that little hands won't harm themselves, and they spin!
Supplies Needed: Color foam in colors of your choice
• Pipe cleaner (1/2 for each pinwheel)
• Stapler or spray glue
• Hole punch and scissors
• Paper or plastic straw
• A measuring tool, ruler, or tape
• Optional: Pony beads in case pipe cleaners aren't strong enough.
How to Craft:
1. Cut out a 5 inch by 5-inch square from your color foam.
2. Fold corner to corner to corner so that when you unfold it, there are diagonal lines creased which form an X. You can run a pencil eraser or credit card along the lines to get the folders sharper or crease deeper if needed.
3. Find the center. It should be the spot where the X creases meet in the middle of the foam.
4. Punch a hole into the center.
5. Cut along the crease lines about an inch from the center. (Meaning start from the outer corner of the crease until about 1 inch of uncut foam from the center is left.)
6. These are the fins of the pinwheel. Once the fins are cut, roughly punch a hole near the tips of every other fin. Don't get too close to the end as it won't stay attached, or the foam will tear.
7. Fold the tip of the pinwheel fin with the hole cut until it lines up with the hole you cut into the center, then staple into place, or use a glue dot after folding to hold the fin in place.
8. Using a small lid or circular object, trace two circles, roughly 1 inch in diameter, from a separate piece of foam. Next, punch a hole in the center into the two circles after being cut from the foam. These will become your foam 'washers'.
9. Grab half piece of pipe cleaner and the straw. Make a "ball" like shape on the straw by tightly wrapping the pipe cleaner 3 times.
10. Slip the pipe cleaner from the top of the straw and thread a foam 'washer' onto it, so it rests against the wrapped pipe cleaner.
11. Thread your pinwheel onto the pipe cleaner after the first foam 'washer" and then thread the second foam washer after the pinwheel.
12. Using the opposite and unwound end of the pipe cleaner, wrap it around the straw until roughly 1 inch of pipe cleaner is left between the pinwheel and straw.
And voila! Beautiful and brightly colored foam pinwheels for your home, plants, garden, or wherever you like!
Realistic Foam Flowers
Did you know that the color foam sheets can be turned into realistic, gorgeous flowers? Since the foam is less shiny than plastic, it can give that authentic matte look of flowers. All you need is patience and heat! You can use the same iron you use for your clothing to help gently curve petal shapes or add character like grooves, folds, and lines.
Supplies:
• Thin color foam sheets.
• Color suggestion: Rosey Beige for petals, Kelly Green and Forest Green for leaves and stems, or white closed-cell Polyethylene foam sheets for shaping and painting.
• Clothes iron.
• Oil or poster paints.
• A free-to-use and download pattern, or make and draw your own on paper.
• Crafting scissors or knife
• 0.3 or 0.5 mm pencil or a friction pen
• Floral wires and floral tape
• Glue gun
How to craft:
1. Make, or print some free petal flower patterns on paper.
2. Cut the templates out.
3. Trace the patterns onto your foam and cut them out. It's best to use a 0.3 or 0.5mm pencil so that you won't have to worry about the remaining outlines later on.
4. Begin coloring the foam petal shapes. To make realistic-looking painted foam petals, use a sponge. You can use any sponge, even the ones you'd use to wash dishes. Cut and use about a 1-inch square. To paint, dip the sponge into the oil paint. Hold the sponge firmly with your thumb and pointer finger and make swift wiping motions.
5. Let your paint dry. Make sure to read the paint label to see how long it will take.
6. Once dry, heat your flower petal carefully by putting it on the back of a hot iron. It will only take a few seconds for it to acquire the right amount of heat for forming, so be very careful not to overheat.
7. Sculpt the flower petal while it is still hot. Avoid getting burnt by using a heat-resistant glove.
8. Begin gluing each petal onto a floral wire using your glue gun.
And that's it for making a beautiful, realistic foam flower! You can arrange these in baskets vases or weave them together. Paint and cut out your favorite spring flower petals to create a bouquet that will never wilt or fade!
When the chill winds make you shiver, and you wish for warmer moments, bring spring eternal home with these gorgeous spring foam crafts. No matter what you use our foam for, we'll have the solution you need and the foam to help you make it.