How to Safely Pack and Move Glass (Panes)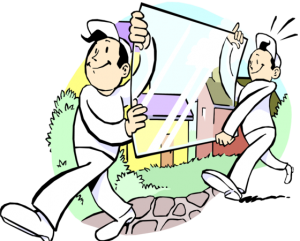 As a homeowner, renter, or DIY enthusiast, you might find yourself in the position of having to pack and move glass panes. This could be due to repairing a broken window, transporting a new window from the hardware store, or moving house and wishing to take a decorative stained glass piece with you. No matter the reason, here are some tips on how to safely pack and move glass panes.
Use protective gloves with sticky material (such as latex or nitrile) on the palm to guard against slippage and cuts when handling glass. If dealing with large, unwieldy windows or panes, we also recommend wearing steel-toed shoes to protect your feet in the event of a drop.
Place two strips of masking tape in an X shape across one side of the glass pane, and then follow up with four smaller x shapes within the quarters created by the first X. This helps reinforce the entire structure and will keep most of the glass shards together if the pane breaks during transport.
Cover both sides of the pane with a thin strip of polyethylene foam to inhibit scratches.
Slip each edge of the glass pane into a polyethylene foam channel to protect the edges against nicks and breaks. We have several different shapes of polyethylene foam channels available at TheFoamFactory.com, including C cushion, U profile, L profile, and tubing.
If possible, place the foam protected glass into a cardboard box that just fits the dimensions of the pane. Next, seal the box with packing tape before transporting to your destination.
For larger panes that won't fit easily into a cardboard box, first wrap them with moving blankets or quilts, and then stand them upright in the cargo section of the transport vehicle. Next, secure them tightly in place with the help of racks, bungee cords, or nylon straps.
Upon reaching your destination, reverse these steps to unpack the glass panes so they can be installed.
Packing and moving glass panes is a delicate procedure that can be dangerous if not performed with caution and safety in mind. When handling glass, be sure to wear appropriate gloves and shoes, and have masking tape, foam sheets, foam channels, and other necessary equipment at the ready.
Tags: Packaging, Polyethylene, Safety
Posted in DIY, Foam Packaging, Shipping Foam
4 Responses to "How to Safely Pack and Move Glass (Panes)"