Holiday Foam Centerpieces
Christmas Foam Décor
With Christmas fast approaching, we might find ourselves rushing to get our lists of things to do finished. Everything from shopping for the perfect gifts, decorating the tree, wrapping presents, and finishing the home decorations. If the mantle above the fireplace seems a bit bare this year, or you have no idea what to decorate the holiday dining table with—what do you do?
This year if you'd love to have a wonderfully unique handmade holiday foam centerpiece for the table, mantle, or any place in your home, we're here to help inspire with some creative Christmas foam décor ideas just for you.
3D Evergreen Foam Tree
Here is a fun and quick little DIY foam craft to add holiday colors and cheer to your home. They can be placed as decore nearly anywhere, from tree to table.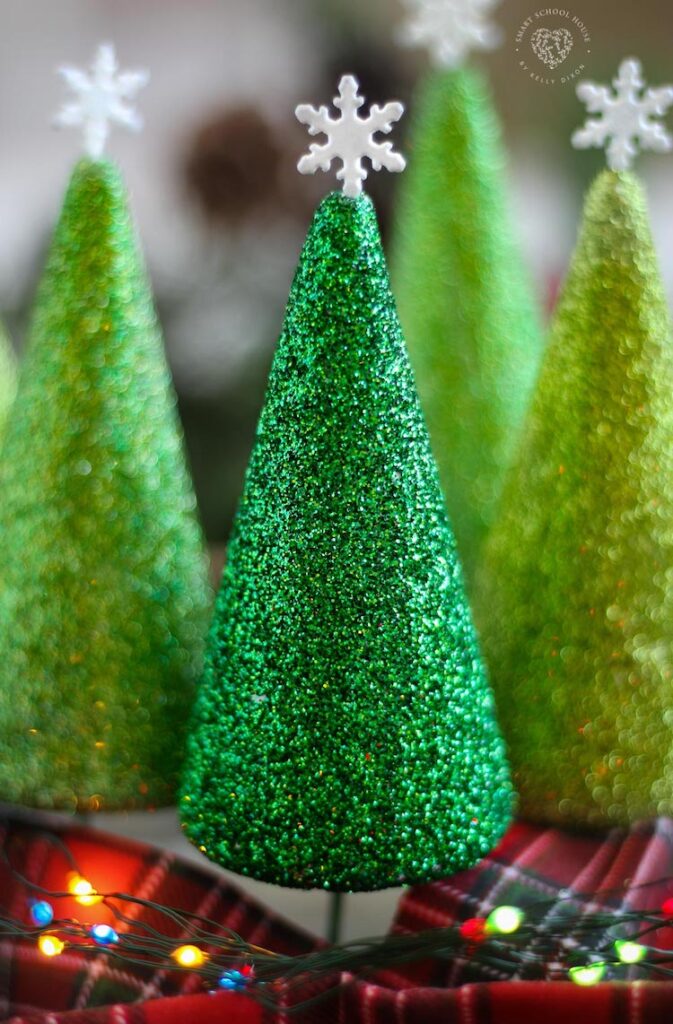 Supplies:
• 1 sheet of Kelly green or Forest green Acoustic/Color foam at least 2″ thick.
• Cardstock
• Pencil or pen for tracing
• Glue
• Free 3D evergreen foam tree printable template available online
• Sharp craft or utility knife or scissors
How to:
1. Print out your pattern or template on cardstock, then cut it out.
2. Trace this pattern onto your color/acoustic foam, cutting two of each piece for a total of four pieces to create each tree.
3. Glue two like-pieces together for each tree and let them dry completely.
4. Connect the two like-pieces by inserting a bottom slot over a top slot, and let dry completely. Once dry, feel free to decorate your tables or any surface with these little trees!
Optional: Paint glue in garland or ribbon shapes and sprinkle glitter to add holiday sparkle. Place ornaments and ribbons strewn through the 3D evergreen foam trees and add fairy lights for a charming centerpiece!
DIY Charming Triangle Foam Trees

Everywhere you look this season, from big retail companies to small handmade crafters, you've no doubt noticed these simplistic yet charming little triangle trees.
Supplies Needed:
• 1 to 3 inch (your choice) polystyrene foam or 1 sheet of Polyethylene 1″ thick foam sheet
• ¼" thin wooden dowels for the tree 'trunks.'
• Optional: Toothpicks
• Optional: Gold or yellow paint or glitter.
• Glue gun and Glue sticks, plus white glue or Modge Podge or spray adhesive
• Paper or cardstock
• Optional: Drill
• Pencil or pen for tracing
• Optional: Brown acrylic paint watered down to stain the wooden dowels
• Leftover scrapbook paper, twine, pipe cleaners, yarn, tinsel, fabric, or wrapping paper to decorate the trees.
• Assorted mini tree slices for base
How to make:
Make a template triangle, size of your choice on paper or cardstock.
Draw triangles on your foam.
Carefully cut out the triangles with a sharp utility knife. If you find the edges jagged, you can use fine-grit sandpaper to round and smooth the edges.
Glue dowels along the back of your foam triangles and allow them to dry.
Optional: You can top these trees with tiny foam stars if you wish by tracing stars on leftover foam and cutting them out, then gluing a toothpick on the top back half of your trees (the same side you glued the dowels.)
Optional: If you would like to stain the wooden dowels to match the theme of your home or the wood in the room these will be in, create a wash by mixing water with brown acrylic paint and painting the dowels. Let dry completely.
Begin decorating. Whether you decide to use leftover wrapping paper, twine, string, yarn, or fabric, simply carefully wrap the material around the tree and glue well. Let dry thoroughly.
Paint the trees starts yellow or paint it with clear glue and sprinkle glitter.
You can either glue the mini tree slices as a base to your trees or drill a hole large enough to insert the small wooden dowels.
Place your finished charming foam triangle trees wherever you'd like for an enchanting centerpiece on any surface.
Foam Peppermint Stick Candies

Peppermint mocha, peppermint chocolate, and peppermint candies are as part of Christmas as the tree itself. This year you can save yourself a bit of cash and get creative by handmaking peppermint candy sticks as a centerpiece or décor for your home this year.
Supplies you'll need:
• Acrylic or chalky paint in a hot or bright red
• Large paintbrush
• Pen or pencil for tracing
• Serrated knife or sharp utility knife
• Your choice: wooden dowels or popsicle sticks
• Polystyrene foam roughly 2 to 3 inches thick.
• Dinner plate for large peppermint candies or round bowl for smaller, to be used as a tracing template.
• Optional: Clear cellophane to wrap foam candies in
• Optional: Ribbon to tie the bottom of cellophane with
How to make:
Make sure to gather your supplies on a paint-safe, cutting-safe surface.
Start by using either a plate or bowl to place on foam and trace a circle on foam.
Carefully cut out the circles traced on the foam. Clean up the edges of any debris and smooth them by rubbing the edges against scrap foam.
Begin by painting a red circle in the middle of the foam.
Paint stripes alternating from thick or thin to resemble peppermint candies' red and white striping. Let the paint thoroughly dry.
Once the foam candies are dry, place them on a wooden dowel or a popsicle stick.
Optional: You can easily bunch these candies together to create a bouquet, or use cellophane to wrap them in a 'candy wrapper,' and even place larger sizes around your home or outside! Tie an adorable ribbon at the cellophane base for an added holiday touch.

Other optional ideas for these peppermint candies are to paint or spray adhesive and sprinkle some clear glitter for a Christmas shimmer.
Whicher holiday foam centerpieces you choose to try this year, we at Foam Factory, Inc. hope you will enjoy the numerous creative ways to implement foam into your daily lives.