Fun DIY Halloween Decor and Crafts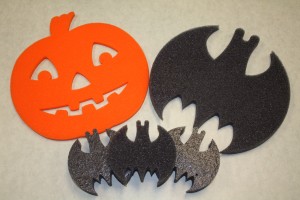 Halloween decorations and crafts play a huge role in making your home, yard, or event more enjoyable for visitors. Trick-or-treaters approach a decorated home with much greater anticipation and excitement than an undecorated one, and partygoers are much more likely to get into the right spirit when surrounded by themed crafts and decor.
Although buying readymade products is certainly an option if you're pressed for time, creating your own DIY Halloween decorations from foam and other basic materials is a wonderful way to get the whole family involved in preparations for the big day. Here are some fun ideas to try if you wish to go the DIY route:
Halloween themed shapes: Trace bats, ravens, rats, pumpkins, cats, spiders, and Franken-monster heads onto colored pieces of foam. With a sharp carving knife or electric knife, cut out the shapes and attach to walls or windows. For sturdier decorations suited to the outdoors, use closed-cell foam and apply the cutouts to similarly shaped pieces of thin plywood before placing in your yard.
Weapon replicas for costumes: Does your child need a sword, knife, axe, or gun to complete his or her costume? If so, try creating replicas out of black or grey foam. Simply download templates from the Internet (or draw your own), trace the shapes onto charcoal foam, and cut out the resulting weapons for totally child-safe—and cheap—Halloween accessories.
Foam letters for messages and signs: Whether you want to say "Happy Halloween" or "Trick-or-Treaters Welcome," crafting your message from colored foam letters is a great way to do it. Acoustic/color foam is perfect for this type of project, and with a dozen colors to choose from at Foam Factory, we're sure you'll find exactly what you need.
Halloween just wouldn't be the same without all of the decorations, crafts, and homemade accessories that go along with it. Save time by picking up some precut shapes at Foam Factory today, or order colored foam from our site to try the DIY decor and crafts listed here so you can make this Halloween more fun for everyone.
Tags: Closed-Cell Foam, Color Foam, DIY, halloween decor
One Response to "Fun DIY Halloween Decor and Crafts"