How to Make a Foam Unicorn Horn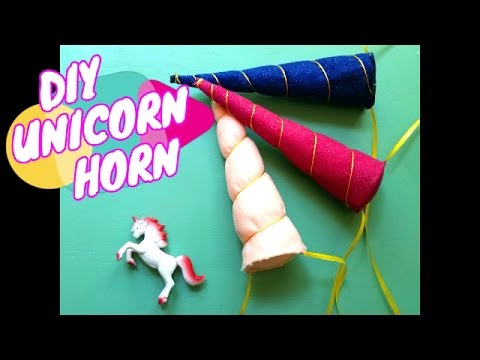 Children love them, adults love them, and people, in short, have been happily obsessed with unicorns for an exceptionally long time. The myth of this creature resides in the history of cultures across the entire globe. Unicorns have been written about as early as the 4th century BC, and Scotland adopted the mythical creature as its national animal during the 1300s. They appear on flags of several countries and across objects and items of all types.
Whether you are a little unicorn or a big one, no matter the age, or you have a unicorn addict in your life, we can teach you how to make a foam unicorn horn for them to wear wherever and whenever. This is a fantastic, smile-inducing craft for a gift or any unicorn lover out there.
Supplies:
First, you will need a few supplies to create your unicorn horn from foam:
Glitter
Paint
Foam sheets at least 12 x 18 inches to 9 x 12
Adhesive: liquid glue for glitter and hot gun glue or adhesive safe for foam.
Ruler
Scissors or a utility knife
Headband or elastic
Embellishments: gems, ribbons, glitter glue, and other items your unicorn addict loves. Some suggestions they might like metallic elastic thread, faux flowers, tulle, tinsel, feather marabou, or felt flowers.
How to Make:
Grab your piece of polyethylene foam sheet. If it's larger than 12 x 8 or 9 x 12, cut it to a square in these dimensions with your scissors.
Once you have your foam sheet to size, draw a diagonal line with your ruler from the bottom left, stopping 1-inch away from the top right corner. Next, you will want to cut along that line you just drew, leaving that 1-inch uncut along the top right corner.
Begin rolling from the bottom left towards the bottom right into the shape of a cone until the top corner is rolled around the cone as well. Don't be afraid to re-roll or start over to get the proper shape you want.
Once the foam has been rolled into a cone shape, hold it in shape by taking your hot glue gun and begin to secure the top corner to the bottom. Don't forget to place glue inside the cone as well for extra support to keep it in its current shape and help the bottom keep the current cone-shape.
Once the glue is dried, trim away the extra foam along the bottom of the cone. Test to make sure it's flat by laying it on a flat surface, such as a table to see if it lays flat. If not, keep trimming small amounts until it is relatively flat.
Now, take your scissors and make cuts ¼ inch in length from the bottom of the cone roughly every ½ inch around the bottom to create fringe. Using leftover foam, draw and cut out a circle that is roughly ½ inch larger than the bottom of the cone you have glued and cut fringes in.
If you are using a headband or elastic, grab the glue gun, elastic, or headband. Use your hot glue gun to glue the foam circle to the bottom of the center of the headband. In the case of an elastic, make two dots of glue and glue the ends of the elastic on the foam circle.
Now, place your cone—or unicorn horn, on top of the headband or elastics, directly above your foam cut circle. Carefully glue the cone onto the circle by gluing each piece of the fringe onto the foam circle.
Congratulations! You have a basic, beautiful unicorn horn. Now you may decorate it as you see fit, or how your unicorn addict requests.
Tips and Ideas
Now that you have a unicorn foam horn, there are so many ways open to you to decorate it how you like. If you're unsure what to do from here, maybe some of these ideas will help.
Glitter
Using a brush, apply small patches of glue to the foam horn. Next, either sprinkle or roll the part into any color glitter you like. Make sure to tap off any excess and put papers down, glitter is fun but can get messy fast!
Unicorn Ears
Leftover foam could be used to add horse-like cute ears to the unicorn horn depending on if you used a headband. Find one of the many ear printable templates if you need and cut it out of the foam. Fold them, and glue them at even spaces at either side of the foam unicorn horn.
In Bloom
A few fake flowers glued around the base of the horn or ears, if you choose to add them, add a delicate, cute touch of decoration to your foam unicorn horn.
Gems – Bejewel the horn even further! Add some gems along with the horn either as stickers or with your glue or a glue gun.
Alternative Wrap
If you have any felt in fun colors, you could glue the felt around the foam horn. Take some metallic elastic thread and wrap it around the horn for the trademark unicorn horn swirl effect!
Tinsel or Feathers
A tuft of tinsel glue or a tuft of feathers is a silky, soft addition to a unicorn horn that almost looks like a unicorn's mane. Glue it to the base of the horn to add a bright pop of fun color.
For the best foam DIY projects creativity or shipping out precious items, www.thefoamfactory.com has what you need. One of the largest one-stop-shops for all your foam needs, we hope you enjoyed our unicorn tips!
Posted in DIY, DIY Cosplay