DIY Foam Snowmen
Bring a Christmas tradition into your home without worries of melting this season with a simple DIY foam snowman to brighten your holiday décor. These DIYs will help you create adorable Christmas foam snowmen for some holiday cheer, and in some cases make for a wonderful holiday family activity to do together, too!
DIY Sock Snowmen
Many of us can attest to the fact of having a sock or two that no longer has a pair. Instead of throwing them out, why not turn them into cute sock snowmen? These sock and foam snowmen can be made with most items found around the house or found right here and are very affordable to make.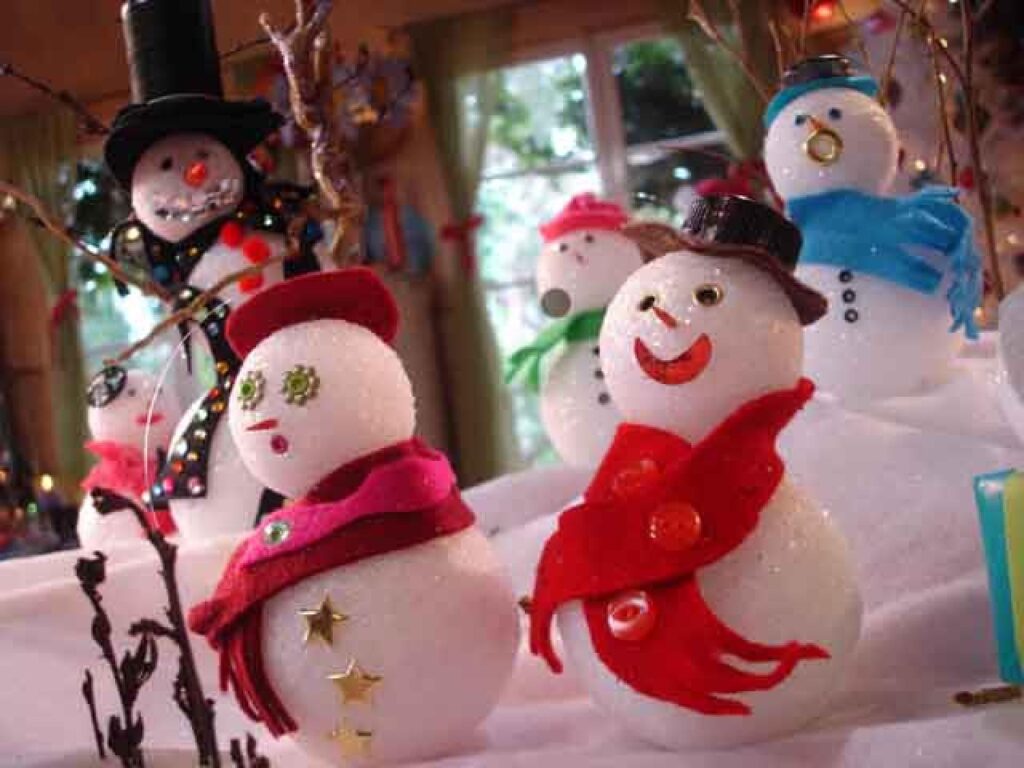 Supplies:
Crew socks or longer in white
Buttons
Fabric scissors
Rubber bands
Needle and thread or glue stick and a glue gun
Map pins or fabric pins with black tips or your choice of objects for eyes and nose.
Leftover scraps of fabric for scarves
How to Make:
Cut the top off the sock from the foot.
Turn the sock inside out, firmly wrap a rubber band tightly to the top of the sock then turn it right-side-out once more.
Fill the sock with shredded foam and pack it down so that the sock forms a nice round base.
Take a second rubber band and wrap it around the top of the sock until it is closed, and wrap a third rubber band roughly 3/4th of the way from the top to form the head of your sock snowman.
Decorate! If you have any leftover rectangular scraps of fabric or twine, create a little scarf for your snowman if you wish. Add the eyes and nose. You can use the map pins or fabric pins or use your glue gun to adhere to two small buttons or even tiny felt puffs. Use two buttons and glue them to near the top of your snowman's 'chest.'
Take the toe you cut from the sock earlier and roll up the cut edges, placing it on the top of the snowmen to create a stocking cap.
These little DIY foam snowmen are easy to whip up in a pinch, maybe 10 to 15 minutes for each one, so create as many as you wish. Create a charming family of snowmen!
Some items simply embody the spirit of Christmas, decorated trees, fresh snowfall, twinkling lights, and of course, the snowman. This next DIY is for a lovely and quite large snowman you can hang in any room. About 3 feet in length and wrapped in chunky, warm, and inviting yarn that will no doubt be a delightful holiday addition to any part of your home.
Supplies:
Baby blanket yarn, white—or any color you wish
5-inch burlap ribbon
Wired vines in brown or grey
36-inch Polystyrene foam sheet
3 black buttons
1 artificial carrot
Cotton balls or batting
Hot glue and a hot glue gun
Sharp utility or craft knife
How to Make:
You can use a 1-inch thick piece of polystyrene foam board or thicker if you wish, just remember you may need more yarn.
Print three graduating in size (large, medium, small) circles. Cut them out and place them on the foam to use as a drawing guide. Alternatively, if you have three different sizes of circular dinner plates you can use these as well as a drawing guide.
Draw the circles for your snowman and carefully use your sharp knife to cut outside the line. Do not worry about perfectly smooth edges, we'll be covering it with yarn in a bit.
Take your glue gun and make a large spiral in the center of the largest of the foam circles and place a layer of cotton balls or use your batting if you have it. This will help round out your snowman.
Take the end of your baby blanket yarn and hot glue it to the center on the back of the foam (the side without the batting or cotton balls) then begin to wrap the yarn from middle to sides. If you run into trouble keeping the yarn in place along the sides, feel free to use a drop of hot glue.
Repeat steps 4 and 5 for the next two circles. If your yarn looks sparse, feel free to wrap it a second time.
Layer your foam circles wrapped in the yarn so that they slightly overlap each other. For instance, you will want the largest circle on the bottom, the medium in the middle and slightly overlapping the top of the largest, and then the smallest circle—the head, slightly overlapping the middle. Use a drop of hot glue to join the snowman together.
Cut two strips of the wired vine, then bend and twist until it shapes the hands. Push them into the foam and a drop of hot glue will keep them secure.
To make the hat, you can unroll the rest of the vine. Using two books, one large and one small—wrap most of the vine around the smaller book to create the top of the hat, and a few of the last bits of a wired vine to make the brim. Glue the brim to the top of the hat, then the hat to the snowman's head.
Last, but never least, glue your artificial carrot-nose, the three buttons, and tie the burlap ribbon like a scarf. And voila! Your beautiful snowman is ready to be hung!
We hope you enjoyed these creative DIY foam snowmen to help lighten your holiday spirits this Christmas! For all your foam needs, we are proud to be your number one online shop. Send your items, gifts, and products in safety this year—or create a memorable handmade gift with the right high-quality foam from us this year.