Creating a Playroom Using Foam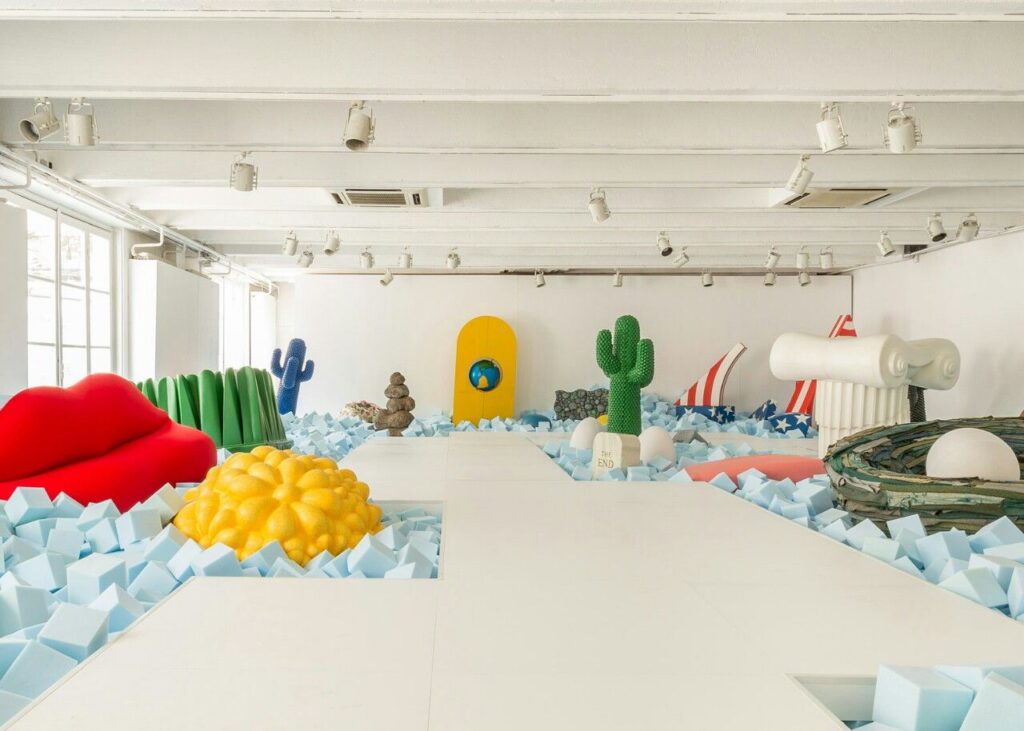 When it comes to your kids, you want to give them a fun place to play that is also safe and out of the way. This is where a playroom comes in to save the day! A playroom is a perfect way to give the little ones their own designated space for play and fun while keeping the rest of the house free from toys. If you are stumped on starting this project, we have a few ideas at the ready. Here are a few things to keep in mind overall and ideas for creating a playroom using foam.
Why Foam?
There are plenty of reasons to choose foam as the main part of your playroom design. Even if you only incorporate foam in one way instead of several, it is a versatile material perfect for the needs of your family.
Affordable
If you are trying to create a playroom on a budget, foam is one of the most affordable solutions to bring new life to an old space. There are several types available in a range of price points so you can always find something right for your project and needs.
Versatile
Not only is foam an affordable material, it is also one of the most versatile on the market. It can be used for a variety of purposes from padding and soundproofing to ball pits. It is also versatile in that you can place it anywhere such as floors, ceilings, or walls without making considerable changes to the structure of the room.
Safe
Everyone worries about the safety of their children. Foam is a safe solution for kids because it adds extra padding when they are playing should they fall or play too rough with their siblings.
Fun!
Foam can be a lot of fun! From creating a foam pit to adding colorful floor padding, there are tons of ways to use this material to ignite their imaginations and give them their own play space.
Considerations for a Playroom
When choosing the playroom, you want to keep a few things in mind. For starters, it can be any space you have available rather than a room or it can be an unused room. Even if you can only partition off a section of a room for a play space, it is still a great way to give kids their own designated space. You should also consider the noise level and traffic of your home when choosing the playroom. It is better to set up the play space in an area of the home where the kids can play freely without getting in the way or being too loud to the point of disrupting others. For example, the playroom shouldn't be near the nursery of your youngest child since it will get in the way of nap time.
Ways to use Foam in a Playroom
Foam Flooring
When creating a playroom using foam, the floor is a good place to start. Since kids can be rough when playing, adding a foam flooring serves several important purposes for their rough and tumble ways. The use of foam flooring adds padding to the room so kids can play around without landing on a hard surface. It also protects your real floors from taking on damage from your little ones over time. Another reason to use foam flooring is that it is easy to clean and it even lasts a long time. It can also help with soundproofing. Finally, a foam flooring adds fun colors to the playroom to ignite their sense of play and add to the fun!
Soundproofing
Kids can get pretty loud when they are caught up in play. When you are creating a playroom using foam, you can actually remedy this problem with this simple solution. Whether you are worried about the kids disturbing the neighbors or disturbing the peace and quiet in your house, foam is a great soundproofing solution. Soundproofing can be achieved by adding foam panels to the floors, walls, and even the windows for extra loud little ones. This will help deaden the sound as the foam absorbs the soundwaves. Even if you can only afford to soundproof one area such as the walls, it will still have a noticeable difference than not having any soundproofing foam in place at all.
Ball Pit
When looking to add some extra fun for your kids, a ball pit is the perfect way to make things even more exciting. In fact, ball pits are one of the most popular options when creating a playroom using foam. They give kids a place to play and jump around while giving you peace of mind that they are landing somewhere soft and safe. A ball pit can be created by sectioning off a part of the room and building a frame in that corner, as well as steps to get to the top of the pit. You will need to use foam pads to cover the interior and railing of the frame, but from there you simply add balls or even foam cubes to the pit. The best part is that you can find guidelines on how to make pits in a range of sizes so whether you have little ones or older kids, this is a project you can add to the playroom layout.
Bean Bag Chairs
Whether your kids are little or a little bit older, they need somewhere comfy to sit after a rough day of play. With foam bean bag chairs or giant foam sack chairs, you can give them some seating in their new playroom. These are a great addition to a playroom because they are both fun and functional. You can use colorful sacks to match the overall décor of the room and choose from a range of sizes to accommodate your kids. You even have a choice in how soft or firm the foam chairs are because you can order the foam fill yourself and fill it to your preference. This is an easy way to add to the fun and enjoyment of this space.
Posted in Acoustic Foam, DIY
2 Responses to "Creating a Playroom Using Foam"