Cover Fabric for Your Outdoor Foam Cushions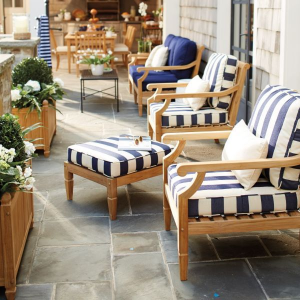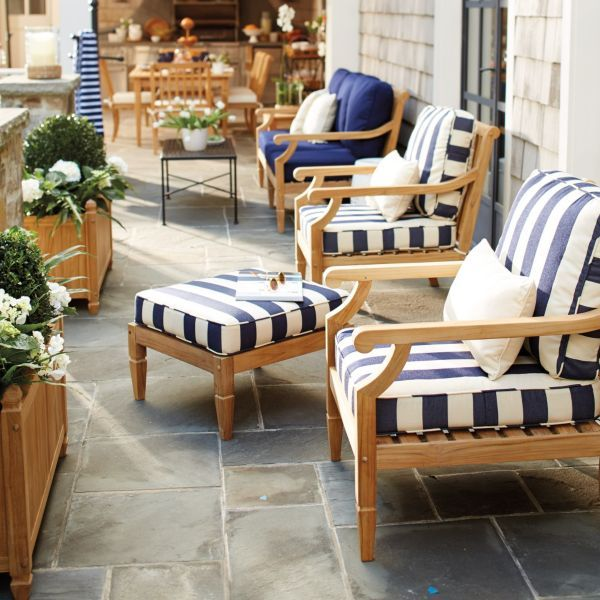 A few months ago we gave you some ideas for choosing the right type of foam for your outdoor cushions. We told you about the different properties of dryfast foam, closed cell foam, and polyurethane foam, and recommended some applications for each. But choosing the best foam is only half the battle when it comes to outfitting your patio furniture with comfortable yet durable cushions. You also need to select a great cover fabric, which is what we're going to help you do right now.
Sunbrella fabric
Hands down, sunbrella is the best outdoor all-purpose cover fabric for your foam cushions. It is not only fade resistant, which makes it ideal for furniture placed in direct sunlight, but also 100% waterproof as well as chlorine safe (think: poolside lounge chairs). You won't have to worry about mold or mildew formation with this fabric, either.
Olefin fiber
Olefin is a synthetic fiber made from polypropylene or polyethylene, and is one of the most durable fabrics you can buy for your outdoor cushions. It is resistant to water, sun, mold, and mildew, and is also very easy to clean. If sunbrella is beyond your price range, olefin is an excellent alternative.
Canvas or duck cloth
These materials are very similar in that they are both made of woven cotton or hemp, and are comparatively affordable. Canvas covers are the right choice if you intend to decorate your cushions, as this material is easy to dye and customize. Duck cloth, on the other hand, features a tighter weave and is therefore a bit sturdier than canvas. Neither material is naturally water or mold/mildew resistant, however, so additional treatment might be necessary before heavy-duty outdoor use.
Acrylic or vinyl
These are the cheapest cover fabric options, and as such do not provide many benefits other than cost savings. Vinyl is durable and easy to clean, but can become uncomfortably hot to the touch in the summer. Acrylic offers a bit more breathability than vinyl and won't heat up as quickly, but is also more susceptible to rips and tears.
Now that you have a better idea of some types of fabrics that are suitable for outdoor use, you can cover your foam patio cushions with the material that best fits your needs and budget.
Tags: cushion cover, Custom Cushion, Outdoor Foam, Patio Cushion
Posted in Cushions, DIY, Outdoor and Marine, Outdoor Seating