Why You Should Make a Custom Foam Kayak Seat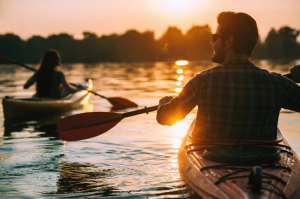 Standard kayak seats leave a lot to be desired. They are designed in a one-size-fits-all fashion, but rarely live up to that ideal. As a result, many kayakers find themselves stuck with a seat that doesn't conform well to their backside or hips; that angles their body in a way that inhibits control and stability; or that is too uncomfortable for long outings. If any of these descriptions apply to your current kayak seat, the best remedy is to buy a sheet of cross linked polyethylene foam and make a custom foam kayak seat that is tailored to your personal preferences.
Cross linked polyethylene foam is an excellent choice for kayak seats due to a number of advantageous characteristics and properties. For example, cross linked polyethylene foam is:
extremely buoyant because of low water permeability
durable and resilient enough for tough outdoor applications
resistant to bacteria, mold, mildew, and rot
strong enough to absorb shocks associated with kayaking and similar activities
nontoxic and manufactured without CFCs, HCFCs, or hydrocarbon blowing agents
When buying cross linked polyethylene foam for your custom kayak seat, TheFoamFactory.com recommends using foam that is 3" or 4" thick with a 2lb density. Once you select the foam, here are some general tips for making a custom foam kayak seat:
Ensure that you have the right tools on hand for the job, including a tape measure, an electric disk grinder (for shaping the concave portion of the seat), and an electric kitchen knife for removing larger portions of foam.
Decide which features of the seat are most important to you, such as conformity to your backside or height of the seat when installed in the cockpit.
Take measurements and make a detailed plan of how much and where to trim the cross link foam to the desired dimensions. If you have trouble envisioning the procedure, watch some video tutorials (freely available on YouTube and elsewhere) to help guide you along.
Replacing a standard kayak seat with a custom seat made of cross linked polyethylene foam can make your kayak more comfortable and give you more stability and control in the cockpit. If you're not 100 percent happy with your current seat, try making your own instead!
Tags: Cross linked polyethylene foam, Custom Foam, diy kayak seat, foam kayak seat
Posted in Boat Cushions, DIY, Outdoor and Marine, Seasonal
4 Responses to "Why You Should Make a Custom Foam Kayak Seat"