Top 5 Ways Foam Can Be Used In Your House This Summer
When summer rolls around, there are certain concerns that come along with it. From the heat to summer bugs, this time of year brings a few unpleasant things to deal with as a homeowner. It also brings with it pool days and fun in the sun! Did you know foam can be a great summer solution for a range of areas? Let's take a closer look at the top 5 ways foam can be used in your house this summer.
Insulation to cut cooling costs
The most obvious of the top 5 ways foam can be used in your house this summer is insulation purposes. With the heat outside growing hotter as the summer rolls on, keeping the cold air trapped inside your house is a big concern. Foam is a great insulator and can help you control cooling costs this season. The start of summer is a great time to check the insulation in your house frame and replace any weakened areas. Insulation can easily become damaged over time and lead to your cooling/heating escaping which in turns keeps the unit running to compensate. This will not only help keep the house cooler, but it will be one less thing to worry about when winter rolls around in terms of insulating for heating costs.
Door/Window Blocks
While summer brings warm temperatures, it also brings out a lot of bugs. Insulation in the walls can help reduce some of these creepy crawlers, but they can still find a way into your house by way of doors and windows. The good news is that foam is a great way to keep them out. With foam strips placed around doors and windows, you can keep bugs out of your house for good this summer. Using foam for this need will not only keep bugs out by cutting off their entry way, it will also assist in the aforementioned cooling costs since it traps the air from leaking out through these crevices. Best of all, foam is affordable and can be cut into any size need to make this a doable weekend home improvement project.
Outdoor seating revamp
The summer was made for days lounging outside by the pool. To really enjoy that time outside with the family this summer, you need comfortable furniture made to weather the outdoors. There are certain types of foam made specifically for this unique area. Since you want any outdoor seating, such as chairs or loungers, to offer a careful mix of sturdy enough to last yet soft enough to be a comfortable element, the foam is essential to a successful outcome. The good news is that you can easily revamp tired or damaged patio or pool furniture with the right foam. It even comes in different firmness levels to help you get the right level of comfort for your preferences. A great choice is Dryfast foam which dries faster than other foams making it ideal for outdoor seating exposed to rain, humidity, and pool water.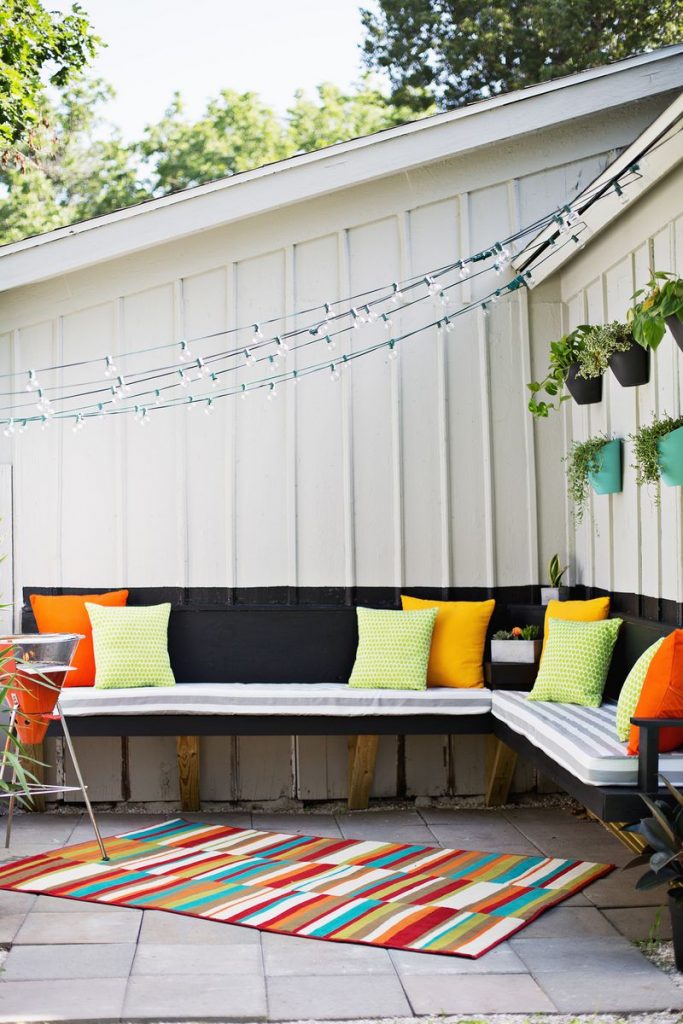 While the seats are important, the little extras of pillows are always a nice way to spruce things up before summer starts. It is easy to revamp your outdoor seating area with some foam pillows. Foam pillows add a nice touch of decorative appeal while keeping you comfortable all summer long. In addition to pillows for the chairs and loungers, you can also use foam and your favorite fabrics to create large pillow seats. These are perfect for when you have company over for a pool day and need extra seating. They are also great for the kids to sit on during the summer while hanging out with their friends poolside.
Pool Noodles/Accessories
Speaking of the pool, foam is a great choice for making this area more fun! If you have a pool, you already know pool noodles are always a hit. While you could buy pre-made foam noodles for the pool, it is just as easy and affordable to order the foam and make it yourself. Best of all, when you take a DIY approach to this item, you have more control on important matters such as the length, thickness, and color.
In addition to pool noodles, there are other ways to use foam to create pool accessories for the summer. For instance, you can use the same foam from the pool noodles to create a floating drink station so you don't have to leave the pool for a drink, a floating basketball net to play games in the pool, or a range of other pool solutions to make this summer even better.
When looking for foam for this application, make sure you pay attention to the buoyancy factor since you want the foam to be able to float. The good news is that there are plenty of buoyant foams on the market to let your creative side out to play in the form of pool accessories.

Sponges
If you have kids, you already know the summer feels like more work than the rest of the year. Your kids are in the house a lot more in the summer which means extra messes to clean up. Foam sponges make it easy to clean up messes quickly this summer. Best of all, foam sponges come in several different types from super absorbent for cleaning up spills to scouring sponges for deep cleaning.
While sponges are great for cleaning, you can also use foam sponges in a range of craft projects to help entertain the kids this summer. Sponges are great for sponge painting with the kids as an easy way to keep them occupied in the summer.
With how many different types are available in the market and the many possible applications, there is no denying that foam is a versatile material for every season. With these ideas at the ready, make your summer even better using this unique material in a variety of ways.