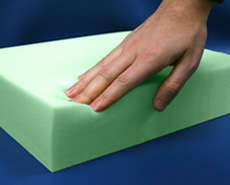 Super Max Foam
Foam Types
Super Max Foam

Standard Sizes
82"x76", 82"x36", and 82"x24"

Thicknesses
1/8", 1/4", 3/8", 1/2", 1", 1-1/2", 2", 2-1/2", 3"
Features
At some point, we all sit down. Whether you are at a spa, relaxing and getting rid of tension, or sitting down to a nice dinner with family and friends, you want to be comfortable, but you also want to be supported. Super max foam sheets offer all of that and more. For those who prefer to make their own furniture, this type of foam is perfect, it has a 2.8 pound density, meaning that it has an expected life of 12 to 18 years, as well as retains its structure and form for that time period.
If you love DIY projects, these pieces are great for creating cushions for window seats or making your own dining room chairs with that fabric that you just had to have. It also is great in physical therapy products, such as massage tables and exercise pads. The super max foam sheets offer more firmness than other types of foam, which will help keep your clients comfortable and supported throughout the session.
Thickness

Full Sheet 82" x 76"

Half Sheet 82" x 36"

Third Sheet 82" x 24"

Super Max Foam
1/8" Thick

$18.99

- - - -

- - - -

Super Max Foam
1/4" Thick

$20.99

- - - -

- - - -

Super Max Foam
3/8" Thick

$22.99

- - - -

- - - -

Super Max Foam
1/2" Thick

$30.99

$15.99

- - - -

Super Max Foam
1" Thick

$59.99

$30.99

$20.99

Super Max Foam
1-1/2" Thick

$88.99

$44.99

$30.99

Super Max Foam
2" Thick

$118.99

$59.99

$40.99

Super Max Foam
2-1/2" Thick

$147.99

$74.99

$49.99

Super Max Foam
3" Thick

$176.99

$88.99

$59.99
NOTE: Products may carry a size tolerance, depending on style. Please see our Tolerance Table.
NOTE: Foam can be cut to custom sizes. Contact Us for details!
NOTE: Standard sheets of foam are cut slightly larger than the listed size to compensate for shrinkage during packaging, transit, and delivery. Sheets may contain rough edges. Any yellowing/discoloration present is a byproduct of exposure to light during production and manufacturing and does not represent a flaw, damage, or defect in the material.
---