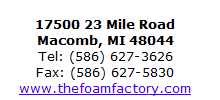 Product General and Technical Information
Date: 05/17/2017
Name: Super Max Foam
General Information
Our Super Max foam is designed to be firm and supportive, yet still comfortable, making it a great choice for seats, massage tables, and exercise pads. The high density of this foam product will allow it to retain its firmness, ensuring comfort and support for years to come. Typical life is 12 to 18 years.
---
Property
Test Method
Values
Density (LB/Cubic Ft.)
ASTM D 3574
2.8
25% ILD (LB)
ASTM D 3574
70
Support Factor (65%/25% Min.)
ASTM D 3574
1.80
Tensile (PSI) Min.
ASTM D 3574
10.0
Elongation (%) Min.
ASTM D 3574
100
Tear (PPI) Min.
ASTM D 3574
1.00
Anti-Microbial
ASTM D 3574
G21, 30, 147
Passes
Fire Retardant Classification
CAL 117-2013
Passes
CertiPUR-US® Certification
CertiPUR-US® Standard as of 1/9/2018
Pass
Contains Fire Retardant Additives
- - -
No
Contains NO PBDEs
All values reported are typical values. We cannot guarantee the applicability or the accuracy of this information or the suitability of the product for any particular purpose. This product is sold without warranty, expressed or implied. (Unless stated otherwise.) Buyer assumes all responsibility for loss or damage arising from the handling and use of this product, whether done in accordance with directions or not. Statements concerning the possible use of this product are not intended as recommendation to use this product in the infringement of any patent.
Copyright © 1997-2023 The Foam Factory. All rights reserved.