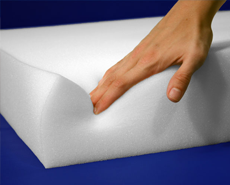 Poly Foam
Foam Types
Poly Foam

Standard Sizes
82"x76", 82"x36", and 82"x24"

Heights
1/4", 3/8", 1/2", 1", 2", 3", 4", 5", 6", 7", and 8"
Features
Ideal uses for this foam are in cushioning, padding and backing for furniture where a balance of comfort and support is desired. Poly foam excels as packaging material, for mailing and transporting items and protecting delicates in storage. It is also useful for occasional bedding products and personal projects like crafting.
Click here for available sizes and pricing!
---