Spring Gardening Foam Uses
Spring is the perfect time to get outdoors and work on the garden. As the weather starts to warm up, your garden will definitely need a revamp after the cold days of winter. Did you know there are a few ways to use foam in your garden? Here are 10 spring gardening foam uses to help you make the most of your season!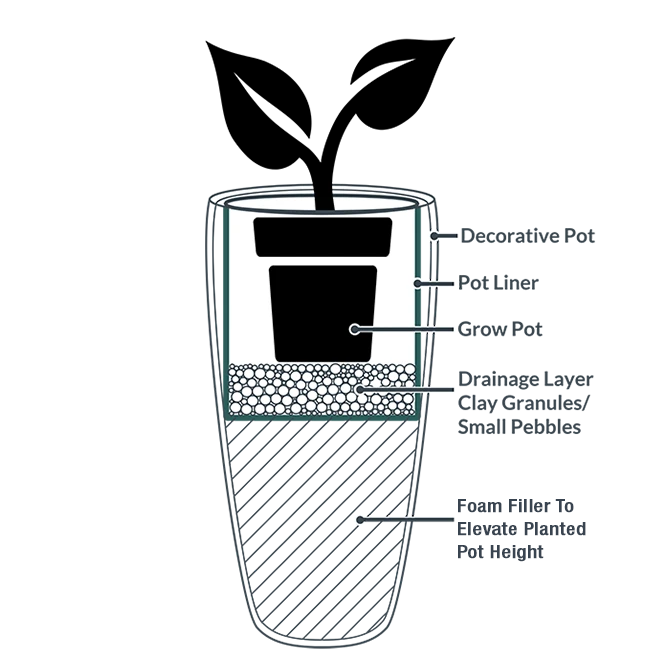 Block out weeds in flower beds
If you have ever added flowers to the flower bed in your front yard, you are familiar with the weeds that always pop up. One of the best spring gardening foam uses is to create a barrier between those weeds and your flower bed surface. You can even do this in a way that it won't hinder the plants by cutting holes in the foam based on the roots of the plant so they reach the soil and then using the foam to block out weeds in the rest of the flower bed. You may still need to weed around the flowers a bit, but your weeding time will be greatly minimized thanks to the foam barrier.
Add foam to the bottom of pots to help with watering
Did you know you can add foam to the bottom of potted plants to help with watering? If plants are being over-watered due to too much rain, an easy fix is to add a bit of foam to the pot. Foam can slow down the flow of the water as it reaches down to the roots. You can easily remove the foam once the plant reaches proper water levels. This is one of the easiest spring gardening foam uses to make the most of your plants.
Make foam raised beds
Spring is the perfect time to elevate your gardening skills. When looking to make raised beds, you want something affordable and easy to work for this gardening project. Foam is actually a good choice for making raised beds because it is available in durable types strong enough to provide stability. For this project, you would want to use a closed-cell foam to ensure the water is absorbed by the plants rather than the foam.
Use as pot fill for large pots/shorter roots
Another one of the best spring gardening foam uses is to use it as a pot filler for larger pots or when working with plants with shorter roots. This can be a great way to still use a larger decorative planter because you like the way it looks without the plant losing out on moisture. Packing the bottom of the planter with soil you won't need due to the shorter roots or larger pot can be a waste of soil and too heavy. When you use foam as the filler under the soil needed for the roots, it makes the planter easier to move around from place to place as needed.
Place foam mats under container gardens
If you are doing a container garden indoors and need a way to keep things clean, foam can be a big help. You can place foam mats underneath the planters for something that is resistant to stains, easy to clean, and sturdy enough to last. This lets you have your container garden indoors without ruining your floors.
Add fun foam flowers to other areas of the garden
Are you just looking for something fun and whimsical for your garden? You can make a fun DIY project by making garden decorations out of foam to look like giant flowers. This is a fun way to add something cute to your garden while giving you a craft project you can do with the kids. You can even create smaller foam flowers to line a backyard walkway leading to the garden for even more whimsy and fun for your springtime.
Use foam noodles to help weaker plants grow
If you have plants that are limp and struggling to grow upwards, you can use foam noodles to help them out. This involves placing the foam noodle in the pot in a way that allows it to support the growing stem. Best of all, since the foam is easy to cut, you can get the right amount of foam needed to help the plant achieve its proper height. This gives the plant time and support to strengthen stems when it is struggling to do so on its own.
Use foam pads to protect your knees
Any gardener knows firsthand, gardening can take a toll on the knees. When you are on your knees digging and tending to the plants, you need proper support that is also cushioning. This is where foam saves the day again!
Arrange floral arrangements with a safe foam instead of floral foam
If you are looking to create the look of flowers in an area where you don't want to constantly tend to the plants, many people use fake flowers arranged with foam at the base inside a decorative planter. There has been a lot of debate in recent years about whether floral foam is safe or not. There are concerns that floral foam may contain harmful chemicals in its makeup. The good news is there are other foams you can use to create springtime floral arrangements. With a sturdy foam such as Styrofoam, create a floral arrangement for springtime without the worry.
Insulate delicate plants during cold fronts
If you live somewhere where cold spells are a part of spring, you may want an easy way to protect your plants from the chill. You can insulate delicate plants during an unexpected spring cold snap with foam. Foam is a great insulator and helps trap in heat/block out cold so your plants can survive the sudden drop in temperature. In fact, insulating plants with foam is a lot more effective than the trash bag method.
There are so many ways to make the most of your garden this spring. With the use of foam, you can take your gardening skills to new levels!
Posted in DIY, Health and Fitness, Seasonal