Keeping Your Outdoor Pets Warm Using Foam
Check out this informative article on how to make two different foam shelters that will keep outdoor pets warm using foam. Some of these tips and tricks will help your local strays too!
Did you know that it can be relatively simple to keep your pet's outdoor home insulated with foam? Foam shelters can be an easy and inexpensive way to build winter shelters for feral cat colonies or outdoor cats that cannot be brought inside. As the temperatures drop, and we slide into winter, allow us to help you build a shelter to keep any pet or animal warm.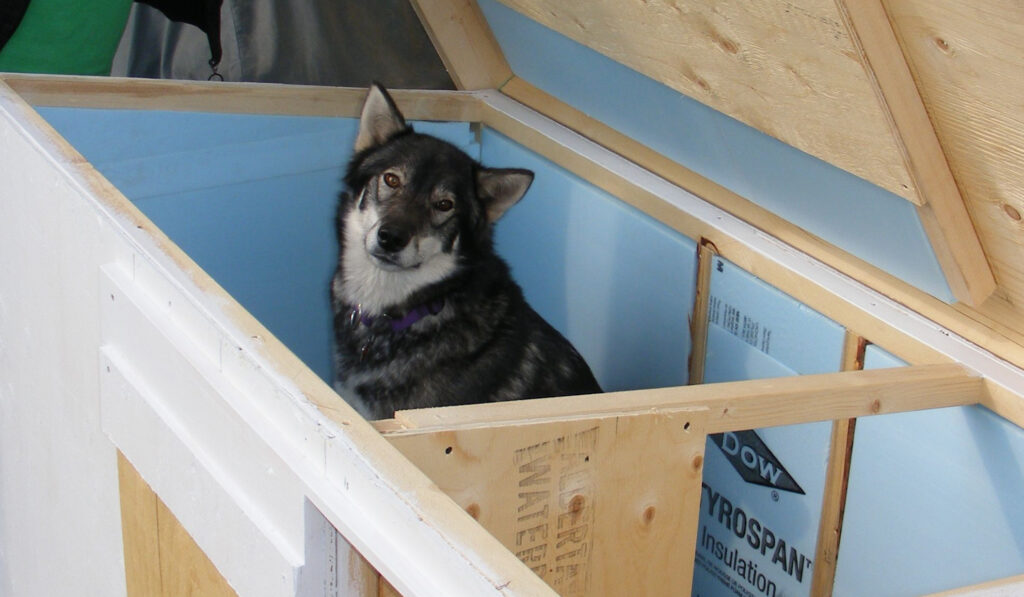 Advantages of Using Foam
Certain types of foam, such as closed-cell foams, like polystyrene (EPS) and polyethylene, are fantastic for insulation and generally have high thermal resistance.
Due to the structure of closed-cell foam, it is one of the most durable and long-lasting materials on the market. Closed-cell foams are often resistant to moisture, rot, mold, and mildew. This makes them ideal for outdoor pet and animal shelters.
Compared to building shelters entirely out of wood, using foam sheets requires fewer tools, minor cleanup, and less money.
Polystyrene Foam Shelter
Supplies:
One 2′ x 4′ sheet of polystyrene foam that is 2" thick or more.
Tubes of all-weather adhesive caulk (squeeze-tube or a caulk gun)
Box cutter or utility knife
Marker
Bread knife or fine-bladed foam saw
Measuring tool with a straight edge (a T-square is recommended)
Upholstery T-pins, long thin nails, or long construction screws
Directions:
Step 1, Cutting:
Cut 2 foam pieces, 24″ x 24″. Label one piece as "A Top" and another as "A bottom."
Cut 2 more foam pieces, 12″ x 24″. Label them both as "B – Side."
Cut 2 foam pieces, 12″ x 20″. Label these "C- Front" and "C-Back."

Important: On the "C-Front" and "C-Back" panels, further measure and mark the bottom with two 6″ x 6″ squares; 2 squares for each single C. Label these as D Foot.
Step 2, Put It All Together:
Once you have all of the pieces cut, cut a 5 ½" x 5 ½" door into the C-Front panel.
Next, glue the 2 D-Foot pieces to the A-Bottom piece.
Glue one of the sides labeled B-Side to the A-Bottom piece
Glue the piece labeled C-Back to the bottom and the side.
Storage Bin Shelter
If you have any large, durable storage bins that you no longer use, you can easily repurpose them for a warm winter hideaway! As a bonus, precise cutting and edges aren't needed. Hand-cutting the foam is easy to do. Straw can be used as stuffing and extra insulation. This is a light shelter that is easy to move. It can also be kept in place with a rock or any other heavy object.
Supplies:
A large and durable storage bin.
1 large hard polystyrene foam board that is at least 1″ thick
Yardstick or tape measure
Box cutter or utility knife
Straw or other insulating material such as shredded newspaper.
Directions:
Cut a doorway roughly 6" x 6", close to the corner, into one of the long sides of the storage bin. To prevent the shelter from flooding, ensure you cut the doorway several inches above the ground.
Measure the floor of the bin, and cut a piece to fit. Line the floor with the foam.
Measure the four sides, and cut the foam to fit. Line each interior wall with the foam. Perfect cuts aren't necessary, but make sure to leave a gap of 3" or more between the top of foam and the upper lip of the bin. This leaves room for the foam roof to fit inside.
Cut a doorway in the foam to line up with the opening in the storage bin.
Stuff the bottom of the bin with straw, fabric, shredded newspaper, or other insulating materials.
Cut out a foam roof to fit and rest on top of the inner foam walls.
Cover the bin with its lid, and you're done!
More Tips for Keeping Outdoor Pets and Strays Warm
Here are some other ways we can help our furry friends keep warm through the harsh winter.
Empty stomachs can be dangerous in the cold. You can help by feeding them warm milk or dry foods. Dogs and cats, when hungry, don't have the energy to use their body's warmth to heat themselves
Check under and around your vehicles before turning the engine on. Many times stray puppies, kittens, or other small animals take shelter under the frame or in the spaces between the wheels.
Add self-heating insulating materials in places that your pet or local strays My try to find shelter.
Avoid using antifreeze in any areas near animals. It is highly toxic and extremely deadly. If you can't avoid it, make sure to clean up all spills.
Avoid using harsh salts or chemicals to melt snow. This can also be lethal to our furry friends.
This winter, we at The Foam Factory hope to help your pets and local strays stay safe, comfortable, and warm. When it comes to all things foam, we're here to assist! If you are looking for the largest selection of foam for every need, we have what you need!