Foam Makes Traveling for the Holidays Better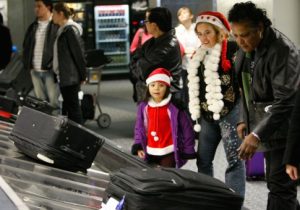 The holiday season is the busiest travel time of the year, as millions of Americans crowd the country's airports and highways in a rush to visit loved ones in far off destinations. With this many people and variables involved, even the most carefully planned itinerary can unravel quickly and leave your family subject to traffic jams, security delays, and missed flights.
While you don't have much control over those kinds of circumstances, one thing you can do is ensure your group is as comfortable as possible regardless of any mishaps. There are many ways to achieve comfort while traveling, but one of the easiest and most cost efficient is to use popular foam products like these:
Foam travel pillows
Foam travel pillows make it possible to find a comfortable sleeping position whether you're in a car, an airport lounge, or on board a plane. Foam Factory offers classic neck-hugging travel pillows with a variety of filling materials ranging from shredded foam to polyester fiberfill. These choices allow you to select the degree of support best suited to your needs and preferences so you can catch some shuteye or simply rest your head, neck, and shoulders en route to your destination.
Foam pet beds
Traveling with pets presents you with a whole different set of challenges, uppermost of which is calming your dog or cat's natural anxieties. Few pets do well in new settings or around large crowds, so a familiar pet bed in a correctly sized travel crate goes a long way towards making your pet feel safe in the midst of the holiday hullabaloo. Check out Foam Factory's website now to view our current inventory of memory foam, shredded memory foam, eggcrate foam, and shredded foam pet beds in numerous shapes and sizes.
Foam mattresses and mattress toppers
If instead of traveling this year it's your turn to host the holiday festivities for your family, then look to foam mattresses and mattress toppers to make your life easier. Foam mattresses and mattress toppers are ideal solutions for overnight guests because they don't take up the same amount of space as ordinary mattresses and are much cheaper, too. Whether placed directly on the floor or atop a sofa bed for added comfort, foam mattresses and toppers will make all of your guests thankful.
Welcome or not, the holidays are coming! Be prepared for the bustle and stress by ordering all the foam travel pillows, pet beds, mattresses, and mattress toppers you need to stay comfy and cozy while traveling to or hosting your family events.
Posted in Mattresses, Memory Foam, Other Products, Pets, Seasonal