DIY Foam Birthday Decorations
Year after year as a parent, we're often tasks with creating the ultimate birthday party, not to mention essential milestone parties from toddlerhood until adulthood. We understand that it can be a lot to plan and think about. Even as adults, when we're trying to consider themes for fellow adult friends—creating the different themes, preparing the guest list, finding a venue or deciding how to set up your house, buying the decorations, ordering the cake, and so much more!
But perhaps this year, you want to do something wholly unique and DIY, but don't know where to start. If so, then lucky for you that we've got some fantastic DIY foam birthday decorations ideas to help you make the next birthday celebration easier and more memorable than ever!
Giant Milestone Foam Birthday Numbers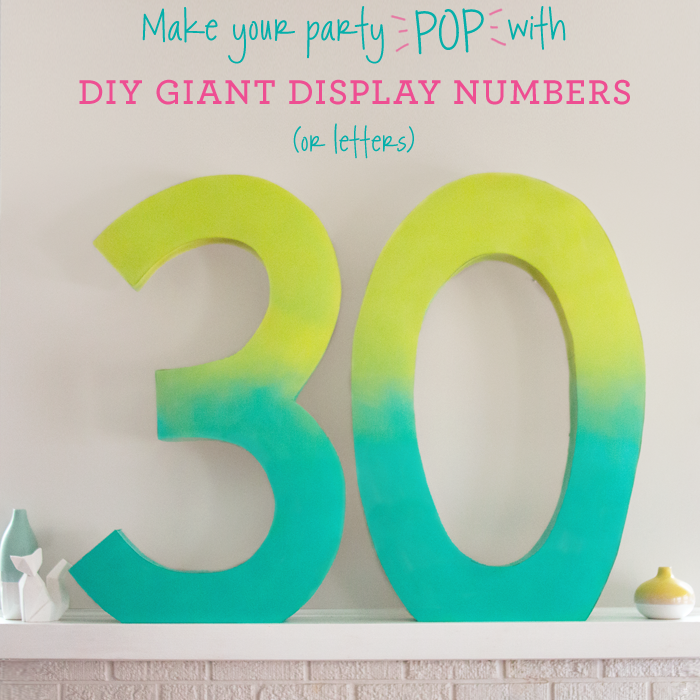 The terrific twos, sweet sixteen, happy eighteenth, or happy 60 years young! There's a relatively easy way to make a gorgeous, giant mosaic number for party decorations, Whichever important birthday number milestone. Here's how!
Supplies
•  Find a free PDF number file for printing in poster format.
•  6 20×30 foam boards
•  Ruler
•  Pencil
•  Exacto or craft knife
•   Hot glue gun and glue sticks or foam adhesive
•   Packing tape
•   Clear tape
•   Glue dots
•  Approximately 35 7" and roughly 45 12" balloons in different colors of your choice.
•  Optional: Hand air pump for more accessible balloon blowing.
1. To save on ink, before printing your number, adjust the tile, scale to 500% and choose the 'draft' setting to save on ink.
2. Print your two numbers. They will print off in many sheets.
3.  Layout the sheets that create the number. There will be a small white border between the numbers. No need to worry about that. Make sure that the outer edge of the numbers lines up.
4. Tape your sheets together, keeping the outer edges of the number even.
5. Cut the number out of the paper.
6. Place foam boards together and trace numbers onto the foam boards.
7. If you have a number such as 3, 5, 6, 8, or 9, remember to try and leave the bottom flat so that the numbers can stand on their own.
8. Cut the foam numbers and attach boards with packing tape
9. With your remaining 20×30 boards, measure 6" strips and cut. Each panel creates roughly 3 strips.
10. Using your hot glue gun, begin to attach the 6" strips around the edges of your cut-out numbers. Straight edge numbers are easiest. For numbers with curved, lightly score the foam board 1" apart before gluing. Be careful not to press too hard during scoring, or you will cut through.
11. Once all strips have been attached, let the glue dry completely.
12. Using your hand pump or manually, begin inflating your balloons. For the best look, try not to assemble more than a day in advance as the balloons may start to lose air and gaps may form.
13. Once balloons are inflated, using your glue dots, place one glue dot and a balloon to the glue dot. Repeat this step, gently pushing balloons together to fill the inside of the numbers until the inside is completely filled with balloons. Once filled, place your big numbers wherever you like!
These enormous numbers make a beautiful addition to any birthday party or can be used as a delightful background for photos!
Pink Mouse Centerpiece Decoration
No matter how old you are, there's a specific bit of magic in loving a particular mouse. If your little one is a fan of the mouse and pink, these foam centerpieces will be a hit.
Supplies:
•  Styrofoam that is at least 8" thick. Enough to cut two 3-inch diameter circles and one 6 inch circle. For multiples, consider more than one piece of foam.
•  Black spray paint and place acrylic. Ensure the black spray paint is for craft foam. Otherwise, regular spray paint may melt Styrofoam!
•  1/8th and ¼ wooden dowels or dowels cut to the sizes you need.
•  Stand and filler. Small planters are perfect and can fill the pots with sand and top it off with pink paper or tinsel.
•  Pink ribbon bow.
•  Glue gun.
•  Optional: if you want to carve the Styrofoam into balls, use a serrated or hot knife, or contact us for custom-cut foam shapes.
How to:
1. You will need to cut one 6" circle and two 3" circles. The 6" circle will be the head, and the two 3" circles will be the ears.
2. Optional: If you wish to, feel free to cut the pieces a bit larger so that you can carve them into balls. Otherwise, skip.
3. In a well-ventilated area, spray paint all surfaces of your Styrofoam circles black. Allow to thoroughly dry, roughly 24 hours.
4. Attach the ¼ wooden dowel into the largest circle, then attach the foam into the vase/pot you choose to display these in. You can use leftover scraps of foam pressed into the bottom to insert the dowel or use gravel/sand.
5. Attach the 1/8th dowels to the smaller circles, then attach these to the head.
6. Paint the wooden dowels black.
7. Glue or affix your pink bows between the ears or smaller circles of your Styrofoam mouse.
8. Fill your vase with whatever filler of your choice, and you're done! It's as easy as that. Place your pink mice centerpiece decorations on tables or around the area and enjoy!
Other Foam ideas
Are you looking for a stellar garland? Your favorite Styrofoam board, cutting knife, and some printed star shapes for a guide can get you're a beautiful start bunting decoration in moments. Simply cut the stars out, paint them gold or whichever color your like, and push a pencil or drill bit through the sides and thread string through. Easily hang them wherever you like.
Are you going for a mermaid of a nautical theme? Grab some of your favorite Styrofoam and shape into balls, then cover in a smooth finish. Sand them, then cover in triple-thick for a faux glass look. Next, paint them in fun ocean colors and let dry before sealing them with one more coat of triple thick and add fishnet! Instant glass floats. Don't forget that you can make detailed buoys and other fun ocean-themed objects from foam as well!
We hope we've been able to inspire and help your following DIY foam projects for birthday decorations! Foam Factory Inc., everything foam you need and more!
Posted in Closed Cell Foam, DIY, DIY Foam Projects, Foam Craft Project