Cute, Comfortable and Affordable Pet Beds
The Foam Factory offers a large selection of comfortable pet beds to suit your pets' needs. It's easy to overlook the benefits of pet beds while traveling if you have one at home. But they aren't just good for your cat or dog at home, but also when on the go! Bringing them on vacation always gives pet owners peace of mind knowing their furry friend has somewhere familiar and comforting to stay.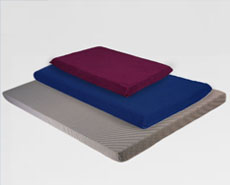 Having that familiar place for your dog or cat can help take the edge off during a stressful time while they're out of their normal element.
Foam Factory pet beds are light, portable, and easy to clean.
The pet beds come in a variety of foam types including solid memory foam, shredded memory foam, egg-crate foam, and shredded foam. Whatever your pet prefers! Having a variety of foams helps find the right comfortable place for your pet to sleep.
Pet bedding for crates when traveling
When traveling, folded blankets or towels are usually the first remedies people try until they see their pet slide around with the car while it's moving or find the fabric bunched up in one corner. A closed-cell foam sheet is a great option as well providing a great solution as they cushion and insulate, while even adding stability as well during movement or sudden stops.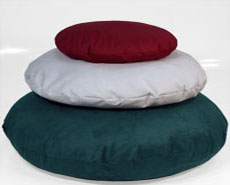 Closed-cell foam sheets can be fit into place or even adhered to the bottom of the crate, providing a more comfortable surface for your animal. Very important is the fact that closed-cell foams are non-absorbent, so they can be sanitized as needed. This is a major plus because when pet accidents happen the spongy open-cell foam absorbs the mess and most likely will result in your throwing out the pet bed.
Ultimately, pets are so connected to their owners that when it comes time for traveling, nothing beats heading on a trip with your furry friend. It might take a little work, but it's worth the effort to make traveling with your pet feel less like an intrusion. Bringing along comfortable and stable padding for them is one good way to do that!
Call The Foam Factory today to find a foam pet bed that's just right for your beloved cat or dog. We have been in the foam factory business since 1998 and work hard to provide you with high-quality foam at an affordable price!
Contact us now for more information on our products, pricing, and shipping
Posted in Pets