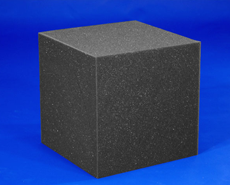 Foam Pit Cubes
Foam Types
Acoustic Foam

Standard Sizes
6"x6"x6" cubes and 8"x8"x8" cubes

Colors
All 13 Colors
Features
We all know foam is versatile, but did you know it can also be used for fun? With their durable nature and fun colors, foam pit cubes are perfect for uses such as a crash pad or landing pad for a range of applications. These soft yet sturdy foam cubes offer the best blend of support and cushioning to protect against low-level stunts or falls. These reliable foam pit cubes are well suited to areas like foam pits for gyms, gymnastics, trampoline parks, skateboarding, and BMX. Best of all, choose from multiple colors to get the option that is best suited to the space. Order today and add some safety to the fun in your location.
Details
Fire Retardant, Meets Cal TB 117
Open Cell Polyurethane Foam
Comes in multiple colors
6" cube pack of 96 will fill about 12 cubic feet of space
8" cube pack of 54 will fill about 16 cubic feet of space
Size

Price

Add to Cart

Foam Pit Cubes
(96-Pack) 6"x6"x6"

$170.99


Foam Pit Cubes
(54-Pack) 8"x8"x8"

$225.99

NOTE: Products may carry a size tolerance, depending on style. Please see our Tolerance Table.
---