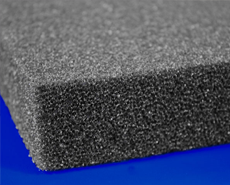 Speaker / Filter Foam
Foam Types
Filter Foam - 30 PPI

Standard Sizes
72"x48" and 36"x48"

Heights
1/4", 1/2", 3/4", 1", 1-1/2", and 2"
Features
Our high-capacity foam filters dust, allergens and other debris from central heating and air conditioning systems while maintaining airflow around the captured particles. It is also used as speaker foam due to the high air-flow its structure allows.
Note: This foam is dark charcoal.
Details
Characteristics: A reticulated, open-pore, flexible, ether-type of polyurethane foam. Characterized by a skeletal structure of strands which provide a constant 97 percent void space and a very high degree of permeability.
Applications
Filter Applications: Small engines, air compressors, hair dryers, face masks, vacuum cleaners, air conditioning, school and motel ventilators, oil-mist eliminators, automotive air cleaners, industrial panels, electric equipment, projector equipment and dust bag collectors.
Coalescing: Separation of water from gasoline, perchlorethylene and jet fuel.
Noise Suppression: Microwave covers, aircraft, industrial vacuum cleaners, high intensity sounds.
Miscellaneous: Powder puffs, floor scrubbing pads, filters in hydraulic lines, lint-free wipers, pre-filter for liquid filter, paint brush applicators, blackboard erasers and foundation for ceramic and metallized high-tech filters.
Note: Not tested for use in aquariums.
Thickness

Full Sheet 72" x 48"

Half Sheet 36" x 48"

30 PPI Speaker/Filter Foam
1/4" Thick

$17.99

$10.99

30 PPI Speaker/Filter Foam
1/2" Thick

$32.99

$17.99

30 PPI Speaker/Filter Foam
3/4" Thick

$46.99

$24.99

30 PPI Speaker/Filter Foam
1" Thick

$61.99

$32.99

30 PPI Speaker/Filter Foam
1-1/2" Thick

$90.99

$46.99

30 PPI Speaker/Filter Foam
2" Thick

$119.99

$61.99
NOTE: Products may carry a size tolerance, depending on style. Please see our Tolerance Table.
NOTE: Sold in full and half sheets only, but can be cut to custom sizes. Contact Us for details.
NOTE: Filter foam is not recommended for fish tanks.
NOTE: Standard sheets of foam are cut slightly larger than the listed size to compensate for shrinkage during packaging, transit, and delivery. Sheets may contain rough edges. Any yellowing/discoloration present is a byproduct of exposure to light during production and manufacturing and does not represent a flaw, damage, or defect in the material.
---