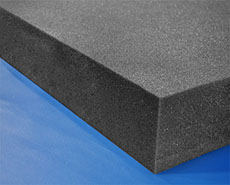 Charcoal Regular Foam
Foam Types
Charcoal Regular Foam

Standard Sizes
80"x72", 72"x40", 72"x24", and 1/8" Rolls

Height
1/8", 1/4", 1/2", 1", 1-1/2", 2", 2-1/2", 3", 3-1/2", and 4"
Features
Charcoal foam provides a difficult to soil surface that is perfect for long-term usage in a variety of areas. As an entry-level sound-deadening product in rooms or studios, the charcoal foam can be used confidently without worry of discoloration or staining over time. It can be used as an engine cover as well, provided it remains out of contact with flames and oil. It is also practical for packaging and in the casing of frequently used items, as it will maintain a professional appearance without dirtying.
Click here for available sizes and pricing!
---