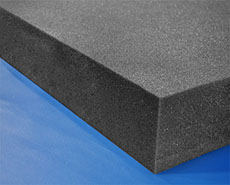 Charcoal Firm Foam
Foam Types
Charcoal Firm Foam

Standard Sizes
80"x72", 72"x40", and 72"x24"

Thicknesses
1/8", 1/4", 3/8", 1/2", 1", 1-1/2", 2", 2-1/2", and 3"
Features
Charcoal firm is higher quality charcoal foam that can handle any task charcoal regular can, to a greater degree. This foam's higher density renders it more resistant to breakdown and degradation, and its increased firmness aids in the casing of frequently used but delicate items that must be packaged snugly, like instruments or technical equipment. It can also serve as entry-level soundproofing.
Click here for available sizes and pricing!
---