How to Make a Foam Sack
Foam sacks from the Foam Factory are the number one choice for comfortable yet affordable seating at home, school, or work. Foam sacks come in a wide range of shapes and sizes, from round single-seat chairs to rectangular multi-seat couches, and can also be formed in nonstandard shapes and sizes for custom configurations.
For customers interested in how our foam sacks are manufactured, here is a brief overview of the steps we take after receiving an order on our website: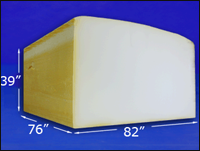 Procure a large block of conventional foam, memory foam, dryfast foam, or charcoal foam from the warehouse.
Known in the industry as a "bun," this 39" x 76" x 82" foam block serves as the main ingredient for the fill material of each foam sack we make. Material types for this foam bun include conventional foam, memory foam, dryfast foam, and charcoal foam. Foam sack construction involves a blend of our conventional foams.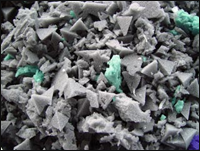 Shred the bun or buns to produce the required amount of fill material.
Our onsite industrial shredders make quick work of the foam buns and supply us with sufficient quantities of new shredded foam to fill up the number and size of foam sacks ordered.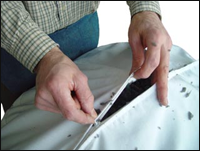 Put the shredded foam into a pre-sewn liner of the desired dimensions.
The main purpose of a liner is to protect the shredded foam fill and prevent if from leaking through the cover of the finished foam sack. Our liners are offered in one-foot increments (from 3ft to 8ft) to correspond to the sizes of the foam sacks we sell, and feature a convenient zip closure to allow for filling, replacement, or maintenance.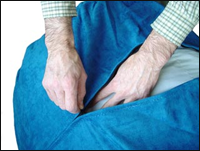 Insert the filled liner into a passion suede cover.
Our hand-sewn passion suede covers add a touch of comfort and style to every foam sack we sell. They are available in 12 different colors to match virtually any interior decor, and are made of 100% micro-polyester fiber that conveys the look and feel of authentic suede at a much lower cost. Each cover is shrink-resistant and durable enough to stand up to spot treatment or machine washing. We also offer custom covers for foam sacks in nonstandard shapes and sizes.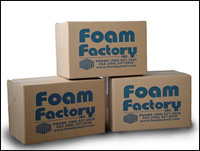 Compress and box the finished foam sack for shipment.
Due to the immense dimensions of our foam sacks, they must be compressed to a more manageable size before they can be boxed and shipped. Then they must also be given time—usually a few days at the most—to return to their original shape and size after being unpacked by the customer. However, since we start with resilient, high-quality shredded foam filling, our foam sacks do not exhibit any long-term effects from compression and shipping, and will soon be ready for years of every day use.