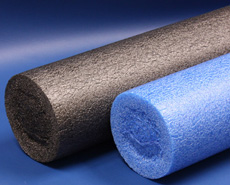 Foam Roller
(CS51)
Foam Types
3LB Polyethylene

Standard Sizes
5" Dia x 11", 5" Dia x 70"
Features
Many people go see a chiropractor due to chronic back pain. This could be due to a number of reasons. An old car accident, working at a desk all day, or some other reason. Either way, a popular tool used in offices are foam rollers. These cylinders are designed to comfort and support your body, and are especially useful for back pain. These are dense foam rollers designed to help you increase your range of motion, and help ease aching muscles.
The smooth roller form of these polyethylene cylinders allows you to gently roll it over your sore muscles, and relieve some of the tension. Another way to use it would be to lay on the floor with it under your back, and gently slide back and forth. It will gently massage your muscles and allow you to feel some relief from your pain.
Available in blue or charcoal.
Size

Blue

Charcoal

Foam Roller (CS51)
3LB Polyethylene Foam
5" Dia x 11"

$10.99

$10.99

Foam Roller (CS51)
3LB Polyethylene Foam
5" Dia x 70"

$61.99

$61.99
NOTE: Products may carry a size tolerance, depending on style. Please see our Tolerance Table.
NOTE: Always consult a physician before beginning any exercies program.