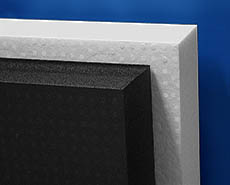 Polypropylene Foam
Foam Types
Polypropylene Foam

Standard Sizes
24" x 24" and 15" x 48"

Thicknesses
1/4", 3/8", 1/2", 1", 1-1/2", 2", and 6"
Features
Polypropylene foam is a rigid and strong material that is great for heavy, high-demand packaging and shipping purposes. It is similar to both polystyrene, with a beaded structure, and polyethylene, with a feel and texture that is more plastic-like.
The density of these products can vary from 1.6LB to 4.3LB. Color selection does not impact density.
NOTE: Size is approximate. Polypropylene has a dimensional tolerance of ± 3" for length and width, and ± 1/4" for thickness.
NOTE: This product may contain imperfections, marks, or other blemishes. Any imperfections impact aesthetics only, and not the product's physical performance.
---
Size

Charcoal

White

Polypropylene Foam Block
24" x 24" x 6"

$58.50

$58.50
(Out of Stock)

Polypropylene Foam Block
15" x 48" x 6"

$54.99
(Out of Stock)

$54.99
---
Size

Price

Add to Cart

Polypropylene Foam - White
15" x 48" x 1/4" (24 Pack)

$54.99

Polypropylene Foam - White
15" x 48" x 3/8" (16 Pack)

$54.99

Polypropylene Foam - White
15" x 48" x 1/2" (12 Pack)

$54.99

Polypropylene Foam - White
15" x 48" x 3/4" (8 Pack)

$54.99

Polypropylene Foam - White
15" x 48" x 1" (6 Pack)

$54.99

Polypropylene Foam - White
15" x 48" x 1-1/2" (4 Pack)

$54.99

Polypropylene Foam - White
15" x 48" x 2" (3 Pack)

$54.99
---