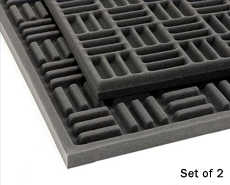 Acoustic Grid Foam
Foam Types
Acoustic Foam

Standard Sizes
2"x66"x43" and 2"x69"x45"

Colors
Charcoal
Features
For a crisp and tidy approach to sound deadening, the Acoustic Grid panels have a tiled aesthetic for aiding in the reduction of bouncing sonic waves. Sold in an interlocking two-panel set, one panel features a border, while the other is edgeless. The coverage offered by these panels makes them a fantastic choice for effectively treating large spans of space at once. The "bordered" panel of Grid foam will have a "stand-out" design, while the edgeless panel has a "cut-out" design. If you ever decide to expand your treatment, you can trust that these patterns will stay the same.
Grid Foam

Add to Cart

Acoustic Grid Foam Set of 2
2" x 69" x 45"

$126.99
NOTE: Products may carry a size tolerance, depending on style. Please see our Tolerance Table.
Set of 2: The Set of 2 consists of one "bordered" 69"x45" sheet, and one 66"x43" edgeless sheet.
---
All acoustical products meet ASTM E84 Class A and California 117 flame retardancy specifications. Generally, this means if you were to briefly expose our foam to a flame, it would self-extinguish.
We do not encourage or endorse anyone attempting fire retardancy tests. Also, please check building codes to meet your area's regulations before installing our acoustic foam.
---