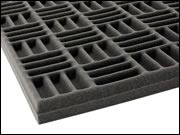 Acoustic Grid Foam
Foam Types: Acoustic Foam
Standard Sizes: 2"x66"x43", 2"x69"x45"
Colors: Charcoal

Features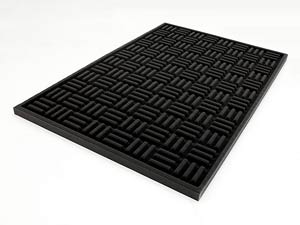 For a clean, crisp take on sound treatment, our Acoustic Grid panels supply a tiled appearance that helps in the absorption of bouncing sound waves to clarify and improve sound in a room. Available with a finished outside border or in a non-bordered style, these two compression-cut designs can be ordered individually for a singular appearance or purchased in reciprocating pairs for additional savings. The size of these panels makes them excellent materials for effectively treating large sections of a room at once. Bordered panels of Acoustic Grid will always feature the "stand-out" design, while non-bordered panels will always feature the "cut-out" appearance, so if you ever decide to expand your acoustical treatment, you can trust that the designs will remain the same.
s

CHARCOAL

Acoustic Grid Foam Edgeless
2" x 66" x 43"


$63.99

Acoustic Grid Foam w/ Edge
2" x 69" x 45"


$63.99

Acoustic Grid Foam Set of 2
2" x 69" x 45"


$115.99
NOTE: Products may carry a size tolerance, depending on style. Please see our Tolerance Table.
Set of 2: The set of 2 consist of a combination of the 2"x66"x43" edgeless sheet and the 2"x69"x45" with edge sheet.
All acoustical products meet ASTM E84 Class A and California 117 flame retardancy specifications. Generally, this means if you were to briefly expose our foam to a flame, it would self-extinguish.
We do not encourage or endorse anyone attempting fire retardancy tests. Also, please check building codes to meet your area's regulations before installing our acoustic foam.