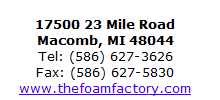 Product General and Technical Information
Date: 08/25/2017
Name: Gym Rubber
General Information
Gym Rubber foam is a good‐quality foam with a medium/firm feel. Common applications include exercise mats, camping pads, and boat cushions. Excellent for use in flooring, marine, flotation, industrial, and automotive applications.
---
Property
Test Method
Values
Density (LB/Cubic Ft.)
ASTM D 1056
6.5
Hardness, Durometer Shore 00
ASTM D 2240
50
Compression Deflection 25% (psi)
ASTM D 1056
7
50% Compression Set (Room temp)(%)
ASTM D 1056
Less than 25%
Tensile Strength (psi)
ASTM D 412 (Die A)
75 Minimum
Tear Strength (LB/in)
ASTM D 624 (Die C)
12
Elongation (%)
ASTM D 412 (Die A)
100 Minimum
Service Temperature (°F)
Low
High Continuous
High Intermittent

ASTM D 746
ASTM D 746
ASTM D 746

-20°
150°
200°
Water Absorption
Maximum Weight Change (%)

ASTM D 1056

Less than 10%
Fluid Immersion (7 days at 73.4 °F)
ASTM Ref. Fuel B, Weight Change (%)
ASTM D 1056
Less than 100%
Accelerated Aging (7 days at 158 °F)
Flexibility (180° bend without cracking)
Appearance Change
Change in Compression Deflection

ASTM D 1056
ASTM D 1056
ASTM D 1056

Pass
None
Approx. 30%
Flammability
FMVSS-302
FAR 25.853
UL94
-5VA / V-0
-HF-1
-HBF


1/8" & 1/4"

0.244" & higher
0.067"-0.149"
0.153 & higher

Pass at most thicknesses
Pass
Listed, UL file#
QMFZ2.E55798
QMFZ2.E55798
QMFZ2.E55798
Fire Retardant Additives
- - -
Yes
All values reported are typical values. We cannot guarantee the applicability or the accuracy of this information or the suitability of the product for any particular purpose. This product is sold without warranty, expressed or implied. (Unless stated otherwise.) Buyer assumes all responsibility for loss or damage arising from the handling and use of this product, whether done in accordance with directions or not. Statements concerning the possible use of this product are not intended as recommendation to use this product in the infringement of any patent.
Copyright © 1997-2023 The Foam Factory. All rights reserved.