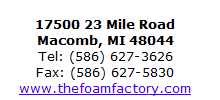 Product General and Technical Information
Date: 3/18/2022
Name: Avery Dennison FBA 8318 Adhesive Backing
General Information
Avery Dennison FBA 8318 GL is a Low VOC acrylic adhesive. This adhesive can be applied to a variety of our closed cell foams when an application calls for quick and easy adhesion of foam to another material substrate.
---
Property
Test Method
Values
Thickness (US Mils)
Liner
Adhesive 1 - Liner
Carrier
Adhesive 2 - Unwind

Total Caliper w/o Liner
Total Caliper

ASTM D3652
ASTM D3652
ASTM D3652
ASTM D3652

ASTM D3652
ASTM D3652

3.0
1.6
0.5
1.6

3.7
6.7
Peel Adhesion (Lbf/in)
(180°, 12in/min @ Room Temp)

SS - Liner (72 hr Dwell)
SS - Unwind
PP - Liner (72 hr Dwell)
PP - Unwind



ASTM D3330
ASTM D3330
ASTM D3330
ASTM D3330



8.5
8.5
4.5
4.5
Loop Track (Lbf/in)
(180°, 28in/min @ Room Temp)

SS - Liner INITIAL



ASTM D6195



3.5
Static Shear (Min to Fail)
(180°, 1" sq/500g @ Room Temp)

SS - Liner (72 hr Dwell)



ASTM D3654



> 1,000
Temperatures
Minimum Application Temp
Minimum Service
Maximum Service Temp

NA
NA
NA

50 °F
-40 °F
250 °F
Only apply adhesive to a clean, dry, oil and grease-free surface
Bond strength is dependent on the amount of adhesive-to-surface contact
Different pressure, time, and temperature on different surface adhieves different performance
Shelf life is two years when stored at 64-72°F/30-70% humidity, out of direct sunlight and in original packaging
---
All values reported are typical values. We cannot guarantee the applicability or the accuracy of this information or the suitability of the product for any particular purpose. This product is sold without warranty, expressed or implied. (Unless stated otherwise.) Buyer assumes all responsibility for loss or damage arising from the handling and use of this product, whether done in accordance with directions or not. Statements concerning the possible use of this product are not intended as recommendation to use this product in the infringement of any patent.
Copyright © 1997-2022 The Foam Factory. All rights reserved.